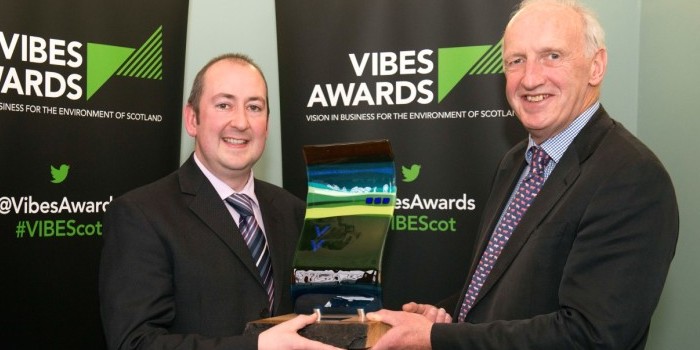 10 December 2013
(From l to r) Kennedy Millar, Development Manager at Brand-Rex, and Bob Irvine, Deputy Director of Climate Change and Water Industry Scottish Government, with the VIBES Energy Award
This year's VIBES Awards saw a record number of applicants apply across all categories including Management, Changing Behaviour, Energy, Transport, Waste and Resources, Environmental and Clean Technology, Hydro Nation, Circular Economy and Micro Business. An impressive 35 companies went on to be shortlisted and received site visits from the VIBES Judges.
The Energy Award recognises businesses that contribute to reducing energy consumption and CO2 emissions in Scotland. This category is aimed at businesses that have significantly reduced energy consumption within their own organisation or through providing a service, developing an energy saving product or through working in partnership with others.
Sponsored by The Scottish Government
The Scottish Government has recently launched the Resource Efficient Scotland programme which provides support to businesses, third sector and public sector organisations to reduce their overheads through improved energy, material resource and water efficiency. The programme aims to cut carbon emissions across public and private sectors organisations. They have returned this year to sponsor the VIBES Energy Award which recognises businesses that contribute to reducing energy consumption and CO2 emissions in Scotland.
Winner of the Energy Award
The winner of this year's Energy award was Brand-Rex Ltd.
Brand-Rex Ltd is a leading global supplier of structured cabling systems that connect the IT equipment in our offices, datacentres and homes. They are also a niche supplier of high performance cables for extreme environment applications. They have been ISO14001 accredited since 1998. The company recovered £1.1m through recycling and have reduced their electricity by 500MW per year.  Their gas has been reduced by 29% per year and they aim to reduce carbon emissions by 20% per metre of cable produced through a new Carbon Management Plan.
On winning the award, Martin Hanchard, CEO of Brand-Rex, said: "It is an incredible honour to win our second VIBES Award, this time in the Energy category. This is testament to the Brand-Rex team's commitment to reducing our impact on the environment. We now aim to build on this achievement by further expanding our long term sustainability strategy."
The Energy Award Shortlist
Brand-Rex Ltd competed with tough competition from the following shortlisted companies:
Brand-Rex Ltd
Ecofitter
Grange Door Systems
Kirsty Maguire Architect Ltd
The other finalists in this category were:
Grange Door Systems
Grange Door Systems manufacture, supply and install industrial doors. They have ISO 14001, ISO 50001 and the Carbon Trust Standard. They supplied 60% of their electricity needs in the first year of installing a Solar PV System and reduced the grid electricity demand by 18,600kWh in 2012/13. They improved their office roof insulation and changed to LED lighting with an estimated energy saving of 3,640kWh. Their carbon emissions have also reduced by 34%.
The VIBES Energy Award – Special Commendation
Special Commendation this year was awarded to Grange Door Systems.
It was announced that the Judging Panel had found it extremely difficult in choosing the winner in the Energy category and, although Brand-Rex Ltd were said to have had the edge, they were also so impressed by Grange Doors Systems so awarded them with Special Commendation.
Originally founded in 1995, Grange Door Systems aims to offer all clients the very best service available in design, installation and maintenance of all metal structured products.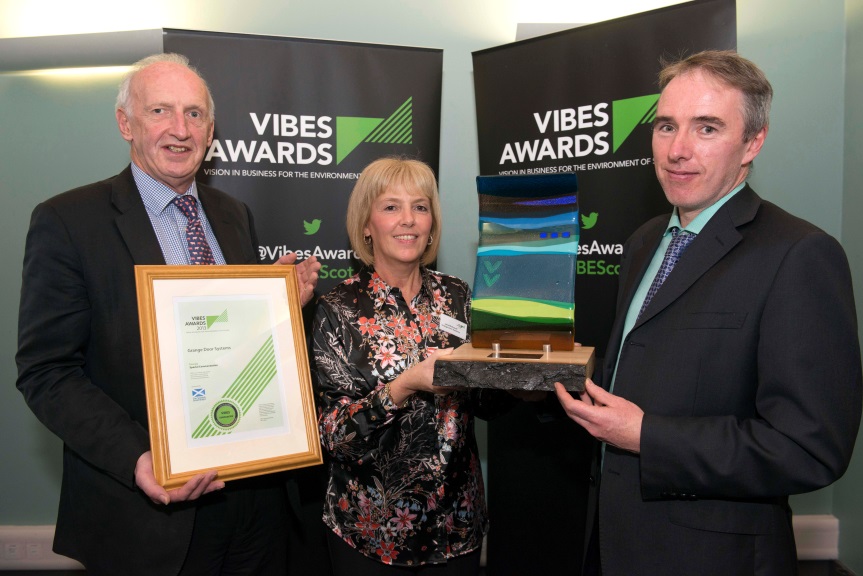 (From l to r) Bob Irvine, Deputy Director of Climate Change and Water Industry at the Scottish Government, with Jane McDowall, Environmental Manager, and Kevin Reilly, Managing Director, of Grange Door Systems
The VIBES Judges would like to stress how well all of the shortlisted businesses did in this year's Awards and how difficult it was to choose between them. This was particularly evident in the energy category with the Special Commendation Award presented.  We would like to congratulate all of the shortlisted companies on their achievements and hope that you will apply for VIBES in 2014.