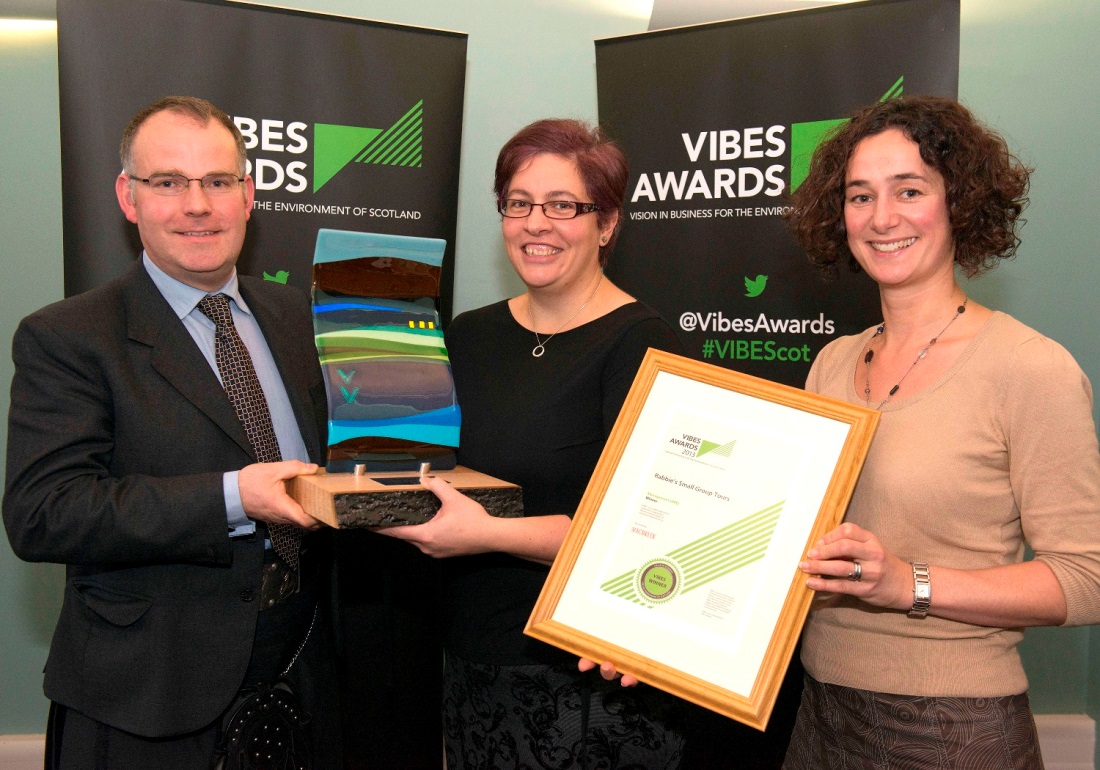 10 December 2013
(From l to r) James Macsween, Managing Director of Macsween, with Caroline Caskie, Sales Manager and Hazel Rickett, Managing Director, of Rabbie's Small Group Tours
This year's VIBES Awards saw a record number of applicants apply across all categories including Management, Changing Behaviour, Energy, Transport, Waste and Resources, Environmental and Clean Technology, Hydro Nation, Circular Economy and Micro Business. An impressive 35 companies went on to be shortlisted and received site visits from the VIBES Judges.
The Management Award recognises businesses whose management systems deliver continuous improvement in environmental performance. This category is aimed at businesses that are taking a holistic approach to environmental improvement and can demonstrate the associated economic and social benefits that have been achieved. The Management Award is split into two sections – Large (over 250 employees) and Small to Medium Sized Enterprises - SMEs (less than 250 employees).
Sponsored by Macsween
Macsween of Edinburgh is a 3rd generation family company and has been at the forefront of haggis and black pudding making for 60 years. As Macsween has grown and their product range developed, they have implemented an Environmental Policy, they exceeded their energy targets in 2009 and the proportion of total company waste sent to landfill was reduced from 90% in 2005 to 10% in 2010.
James Macsween, Managing Director of Macsween, said: "Macsween of Edinburgh is proud to be involved with the VIBES awards. As a winner in 2008 in and a family business it has always been about taking part. However, winning always makes the hard effort worthwhile. So if you are a runner up or a winner today -  bask in the glory of public recognition, knowing you are making a difference and you are doing considerably more for the environment than others and remember if it was easy to more people would be doing it."
Winner of the Management Award – SME Category
The winner of this year's Management (SME) Award was Rabbie's Small Group Tours.
Rabbie's Small Group Tours operates tours throughout the UK and Ireland in fuel efficient 16 seat mini coaches with driver/guide. They have created a self-imposed carbon tax which donates £10 per tonne of carbon used for environmental and community projects. They have implemented a carbon reduction programme for transport and office, saving fuel equivalent to approximately £1000 per annum per driver. They have also reduced their customers' carbon footprint by 21%.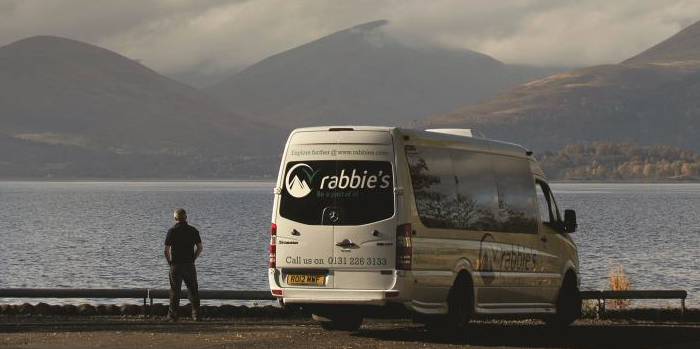 On winning the award, Hazel Rickett, Managing Director of Rabbie's Small Group Tours, said: "We are thrilled to receive the VIBES Management Award. Preserving our environment and communities for future generations is one of the founding principles of Rabbie's and achieving this award is a credit to our dedicated team and the communities that we work with throughout the UK and Ireland."
The Management Award – SME Shortlist
Rabbie's Small Group Tours were up against tough competition, with the following companies all being shortlisted in the category:
Binn Eco Park
Changeworks Recycling
Edinburgh International Conference Centre
Gordon & MacPhail
Grange Door Systems
Hambleside Danelaw Limited
Soilutions Ltd
The other finalists included:
Changeworks Recycling
Changeworks Recycling delivers innovative waste and resource management services. The company have saved 3,600 tonnes CO2 by diverting waste from landfill in 2011-2012. They help businesses reduce on average 80% of their waste and they help clients to implement waste prevention plans. The company have seen £50k annual saving from transport initiatives.
Hambleside Danelaw Limited
Hambleside Danelaw Limited design, develop and manufacture fibreglass products for the construction industry, their cost savings from reductions in raw material use in last 3 years is around £128,000. In the last 10 years the company's waste levels have been reduced by 44%, their carbon footprint has reduced by 78% and they have developed a new composite product that uses less material.
The VIBES Judges expressed how well all of the shortlisted businesses have done in this year's awards and stressed how difficult it was to choose between them. We would like to congratulate all of the shortlisted companies on their achievements and hope that you will apply for VIBES in 2014.