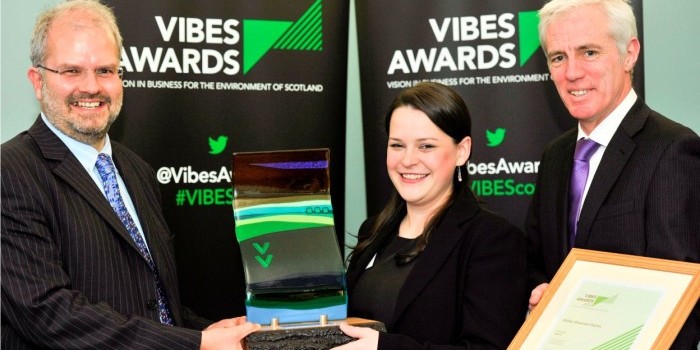 10 December 2013
(From l to r) Ian Murdoch, Manager, Scottish Transport from Energy Saving Trust Scotland, and Jennifer Strachan, Logistics Analyst, and David Douglas, Group Environmental Manager, at Müller Wiseman Dairies with their VIBES Transport Award
This year's VIBES Awards saw a record number of applicants apply across all categories including Management, Changing Behaviour, Energy, Transport, Waste and Resources, Environmental and Clean Technology, Hydro Nation, Circular Economy and Micro Business. An impressive 35 companies went on to be shortlisted and received site visits from the VIBES Judges.
The Transport Award recognises businesses that have reduced transport-related fuel consumption and consequent CO2 emissions.
Sponsored by Energy Saving Trust
The Energy Saving Trust in Scotland has returned this year to support the VIBES Transport Award in a bid to help highlight the potential to reduce the levels of carbon emissions from motorised transport in Scotland. They are a long standing partner of the VIBES Awards; Energy Saving Trust in Scotland provides accurate, impartial and independent advice to business communities. This ranges from fuel efficient driving advice to staff, to tailored solutions for businesses to adopt zero or low carbon vehicles and independent reviews of business transport use.
Ian Murdoch, Manager of Scottish Transport at the Energy Saving Trust, presented the award and said: "I am encouraged that businesses have started wakening up to the cost of travel and transport. The applications that have been submitted this year show that many organisations can have a win-win situation where they cut their fuel costs and also cut their emissions."
Winner of the Transport Award
The winner of this year's Transport Award was Müller Wiseman Dairies.
Müller Wiseman Dairies collects, processes, bottles and distributes milk and cream to other depots and large Customer Distribution Centres. They are reducing the speed of their vehicles and have seen a fuel reduction of 7%, equivalent to 45,454 litres of diesel. They have changed to liquefied natural gas (LNG) vehicles and have saved 31,649 litres of diesel, equivalent to 73,775 kg CO2.  They actively encourage other fleet users to change to LNG.
On winning the award, David Douglas, Group Environmental Manager for Müller Wiseman Dairies, said: "We are very proud to have won the Transport Award at the VIBES Awards 2013.  We have set ourselves stretching targets which underpin the business' drive for higher levels of efficiency. At the heart of the plan we have placed major reductions in the use of electricity, gas, fuel, water and waste to landfill."
Müller Wiseman Dairies beat off strong competition from the other companies that were shortlisted, including:
Changeworks Recycling
Lothian Buses
ScotRail
The other finalist in this category included:
Lothian Buses
Lothian Buses run a transport system for members of the public within Edinburgh and the Lothian's. They have 25 hybrid buses now in service with a further 20 on order; these Hybrid buses show fuel savings of over £420,000. Lothian Buses have seen an increase in bus users on the selected routes of 5-10%. 50% of their fleet is now Euro 5 compliant.
The VIBES Judges again would like to stress how well all of the shortlisted businesses have done in this year's Awards and how difficult it was to choose between them. We would like to congratulate all of the shortlisted companies on their achievements and hope that you will apply for VIBES in 2014.