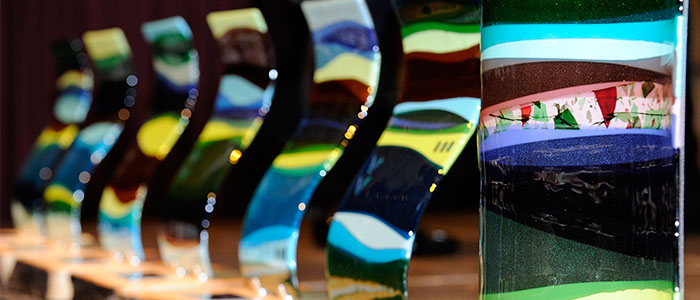 23 November 2013
The VIBES Awards 2013 winners have been announced!
The Vision in Business for the Environment of Scotland (VIBES) Awards has been recognising the commitment, actions and achievements of Scottish companies in reducing their impact on the environment for 14 years. This year's awards saw a record number of applications, with a total of 35 companies being shortlisted.
This 2013 VIBES Awards ceremony took place at The Hub in Edinburgh and what a fantastic day it was! Around 280 guests attended the event to hear speakers including Gillian Bruce, VIBES Chair; Bob Irvine, Deputy Director of Climate Change and Water Industry at the Scottish Government; David Sigsworth, Chairman of SEPA; Iain McMillan CBE, Director of CBI Scotland and Ronnie Mercer, Chair of Scottish Water. Lady Susan Rice from Lloyds Banking Group and ten Scottish businesses received awards for their environmental excellence.
The ten winning companies managed to beat off stiff competition from some of Scotland's leading 'green' businesses to take home titles. The winners were:
VIBES Management Award Large Category 2013: Albert Bartlett & Sons Ltd
VIBES Management Award SME Category 2013: Rabbie's Small Group Tours
VIBES Changing Behaviour Award 2013: Whitmuir Organics Ltd
VIBES Energy Award 2013: Brand-Rex Ltd
VIBES Environmental & Clean Technology Award 2013: Dry Lube Ltd
VIBES Transport Award 2013: Müller Wiseman Dairies
VIBES Waste & Resources Award 2013: Vegware Ltd
VIBES Micro Business Award 2013: Biomatrix Water
VIBES Hydro Nation Award 2013: Dryden Aqua Ltd
VIBES Circular Economy Award 2013: Dryden Aqua Ltd
VIBES Energy Award Special Commendation 2013: Grange Door Systems
Lady Susan Ricewas awarded the Lifetime Achievement Award, 2013
The Sponsors of this year's VIBES Awards include: Enviroco, Energy Saving Trust, ScottishPower, Mainetti, Scottish Government, Chivas Brother's Pernod Richard, Edinburgh Centre for Carbon Innovation and Macsween.