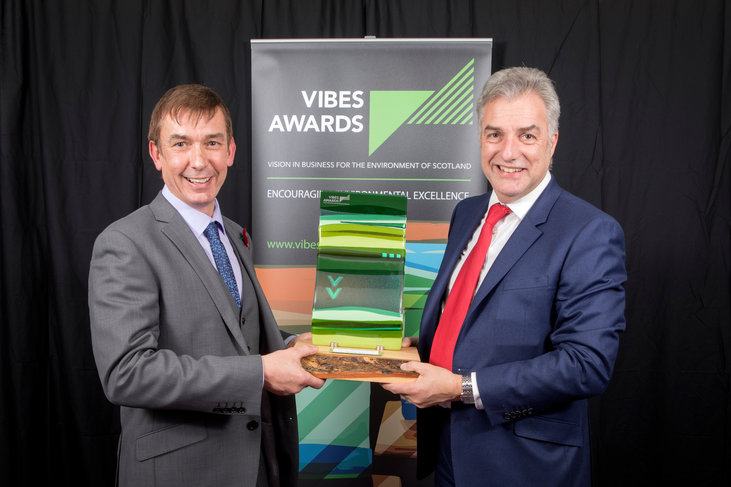 10 April 2017
In 2016, 32 Scottish businesses were shortlisted from a record number of entries.  Each of the finalists underwent a rigorous judging process, including a programme of site visits, to assess their environmental practices.
The Circular Economy award is for businesses whose product or service fit the principles of the circular economy and demonstrates the business and environmental benefits of a closed loop approach.
Sponsored by Chivas Brothers Pernod Ricard
Chivas Brothers Pernod Ricard is one of the leaders of the global wines and spirits industry. They are responsible for the sales, marketing and distribution of the Group's leading premium spirits, wines and champagnes in the UK.
Pernod Ricard are proud of their strong engagement towards protecting their environment.
It was made clear as early as 1966 when Paul Ricard, the founder of our Group, created the Oceanographic Institute on Les Embiez Island in the Mediterranean Sea. It is their duty to continue in his footsteps and minimise the impact their activities have on the environment.
They are highly dependent on natural resources. All their products are derived from agricultural raw materials, including grapes and other fruits, cereals, sugar cane, and botanicals. Thus, protecting the environment is not only a good business practice; it is also fundamental and strategic in assuring their future. They also recognise that their consumers expect their brands to be managed sustainably, offering the best quality with exemplarity.
Their engagement towards the environment was formalised when they endorsed the United Nations Global Compact in 2003. They have since identified environmental protection as one of the priorities within our Corporate Social Responsibility commitment.
Winner of the Circular Economy Award: Marlin Industries Scotland Ltd
The winner of the 2016 Circular Economy Award went to Marlin Industries Scotland Ltd.
Marlin operate in the electrical energy distribution and telecommunications industries. Marlin provide timber cable drum management and logistics support through supply chains to UK/European based manufacturers. The company was founded in 2012 and now has 36 full time employees & a turnover in excess of £2M. Marlin Industries re-furbish and remanufacture cable drums. This reduces waste and carbon footprint of the drums by keeping them in use longer, reducing the reliance on raw materials.
Simon Graham, Managing Director, Marlin Industries Scotland Ltd said: "We are delighted to be confirmed as winners of the VIBES circular economy award. Our business has grown substantially over the past four years and to gain recognition through this award is a tremendous vote of confidence from the organising partners behind VIBES.
"While we recognise our achievements to date, our vision for the future development of the company remains constant – maximise the use of existing, minimise the need for new and prevent wastage of natural resources."
The Circular Economy Shortlist
The other shortlisted companies in this category included:
Aurora Sustainability Ltd
Better World Books Ltd
Furniture Plus