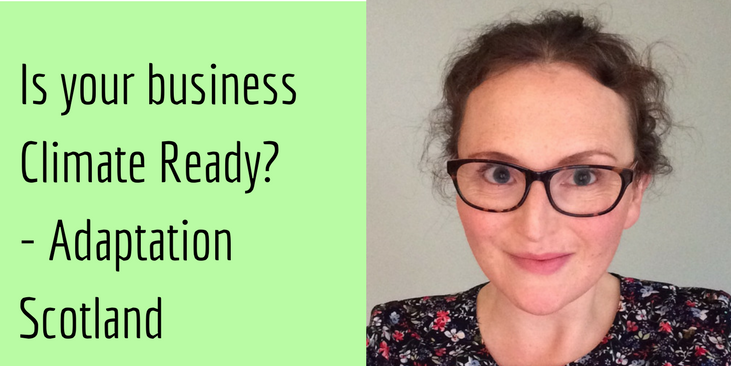 01 January 0001
Scotland's climate is already changing. Over the last century temperatures have increased, sea levels have risen and rainfall patterns have changed, with increased seasonality and more heavy downpours. These changes are projected to continue and intensify over the coming decades. We can expect future changes in climate to be far greater than anything we have seen in the past.
The climate changes expected will bring a range of both positive and negative impacts on businesses. Understanding how your business will be affected by extreme weather and climate change impacts is crucial. Planning ahead rather than responding reactively will reduce the financial impact of those changes, but also will create businesses opportunities.
Adapting to climate change includes:
Being aware of how changes in climate will affect your business and taking action to manage risks and adapt.
Developing products and services that will help society to adapt, or those that become viable as our climate changes.
Some of VIBES – Scottish Environment Business Award winners have demonstrated examples of climate adaptation:
Taylor Wimpey and C&D Associates winner of the 2015 Co-Operation Award. This is a partnership between Taylor Wimpey West Scotland, C & D Associates, Central Scotland Green Network Trust, the Scottish Government and Abertay University to create source control Sustainable Urban Drainage Systems (SUDS) technology to help control rainwater and promote green infrastructure at plot level.
The Glenmorangie Company winner of the 2017 Hydro Nation Award. The DEEP – Dornoch Environmental Enhancement Project is an innovative approach to the reduction of BOD and COD in the aqueous effluent from the distillery. The desired outcome of the project is to enhance water quality and biodiversity within the Dornoch Firth through a combination of waste treatment process and regeneration of a biogenic oyster reef. The oysters will act as bio filters to treat the effluent and the reef will protect the shoreline close to the distillery buildings from potential global warming effects of higher seas.
Take a look at Climate Ready Business guidance to find out more about adapting to climate change or visit Adaptation Scotland's website https://www.adaptationscotland.org.uk/
Has your business taken action to identify and manage climate related risks? Or developed products and services that will help society adapt? If so then apply for the adaptation commendation award.
For more information, take a look at the application forms or contact us at vibes@sepa.org.uk