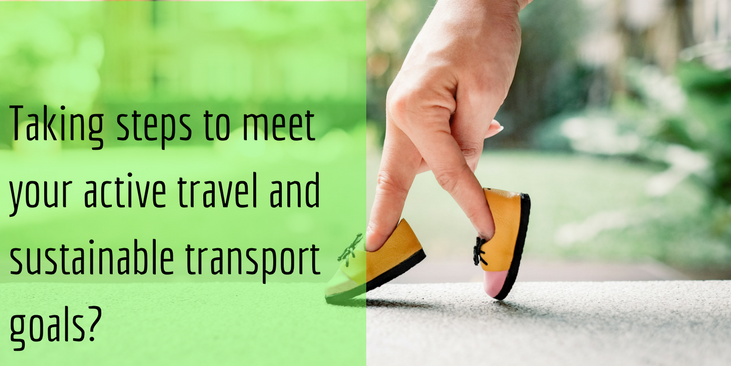 23 April 2018
Transport accounts for 28% of Scotland's greenhouse gas emissions and is a major contributor to poor air quality found in many of Scotland's towns and cities. As a result, the Scottish Government announced that they are doubling the active travel budget for 2018/19 and will continue to support and invest in making Scottish transport more sustainable.
In recognition of this, the 2018 VIBES Awards will include a category for Sustainable and Active Travel. This award is open for applications from any Scottish business that has or is taking steps to meet its active travel and sustainable transport goals.
To qualify an organisation should demonstrate an improvement in the sustainability of its transport performance, delivery and/or facilities. This can be, for example, offering cycle to work schemes for employees or replacing a fleet with electric vehicles (EVs). Applying for this award not only showcases your organisation's achievements but shares good practice and boosts competitiveness amongst Scottish businesses to achieve a more sustainable, cleaner Scotland. All applications must be sent to vibes@sepa.org.uk by 5pm on 27th April.
Regardless of whether your organisation is currently delivering active travel practices or starting to think about making your fleet greener, there is a range of advice and support available to help you:
Travelknowhow Scotland is a unique, free, web-based toolkit to aid travel planning for your organisation. Its online resources can help your organisation and employees to choose sustainable travel options. There is an abundance of useful information and downloadable resources from webinars and planning guides to poster templates and employee engagement communication kits. Travelknowhow Scotland not only helps your organisation to move in a sustainable direction, it can also assist with monitoring the effectiveness of your measures.
It is funded by Transport Scotland and supported by Scotland's 7 Regional Transport Partnerships.
Register today at: www.travelknowhowscotland.co.uk
Energy Saving Trust's (EST) Scottish Transport team offer an array of programmes to support Scottish businesses to cut their transport carbon emissions and save money in the process.

Low Carbon Transport Business Loan is an interest-free loan of up to £100,000 available to Scottish businesses to purchase plug-in electric vehicles. The loan can also be used to pay for vehicle efficiency devices, video/teleconference facilities and cycling facilities. For more information, call 0800 0931 669 and speak to a specialist Transport Advisor.
If your organisation currently operates EVs, have employees who drive EVs and/or wish to open a charge point to the public, grant funding towards a workplace charge point  may be available.
Switched on @Work is a free employee engagement day to give employees information on the benefits of ultra-low emission vehicles and will demonstrate your organisation's understanding of environmental issues.
Free bespoke advice is available from an Energy Saving Trust specialist transport advisor. Recommendations can be made on your current transport arrangements and travel behaviour.
FuelGood driver training is a subsidised driver training programme that can help your organisation save money, reduce vehicle emissions and improve driver awareness. 14.8% is the average MPG improvement seen on the day of training.