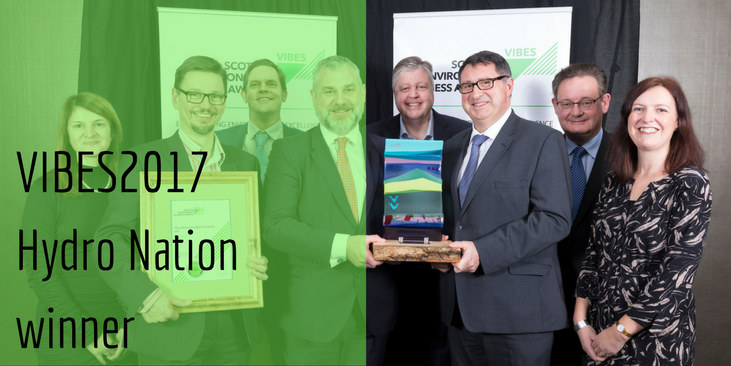 26 January 2018
This year, 38 Scottish businesses were shortlisted from a record number of entries. Each of the finalists underwent a rigorous judging process, including a programme of site visits, to assess their environmental practices.
Sponsored by Scottish Government
The Hydro Nation Award recognises businesses, partnerships and collaborations that have specifically developed innovative products, practices or services in the area of water treatment and water technology.
Winner of the Hydro Nation Award
The winner of this year's Hydro Nation Award went to The Glenmorangie Company Ltd.
The Glenmorangie Distillery in Tain is the home of the Glenmorangie Single Malt Scotch Whisky brand. The site distils, matures and produces this iconic product. Glenmorangie whisky is sold in 135 countries world wide. The DEEP – Dornoch Environmental Enhancement Project is an innovative approach to the reduction of BOD and COD in the aqueous effluent. The desired outcome of the project is to enhance water quality and biodiversity within the Dornoch Firth through a combination of waste treatment process and regeneration of a biogenic oyster reef.
Dr Peter Nelson, Operations Director at The Glenmorangie Company, said: "We are honoured to have been recognised at this year's VIBES – Scottish Environment Business Awards. Winning the Hydro Nation Award is a real testament to the innovative work and commitment from everyone at The Glenmorangie Company and our partners at Heriot Watt University and The Marine Conservation Society. Working towards achieving a sustainable future is key to our collective ambitions. We hope by taking our place amongst many excellent companies working to deliver a sustainable future will inspire more organisations to make a difference."
The VIBES Hydro Nation Award - Special Commendation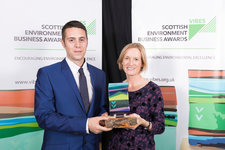 A special commendation this year was awarded to Diageo (Leven)
The site at Leven is the biggest packaging site within Diageo consisting of 4 bottling halls with 21 productions lines, 40% of Diageo's spirit worldwide is bottled on site working out at over 40,000,000 cases per year. The site has a range of innovative protection measures relating to effluent treatment and compliance
The Hydro Nation Finalists:
SSE Generation Development
Strathkelvin Instruments Ltd.
Water Engine Technologies Ltd.