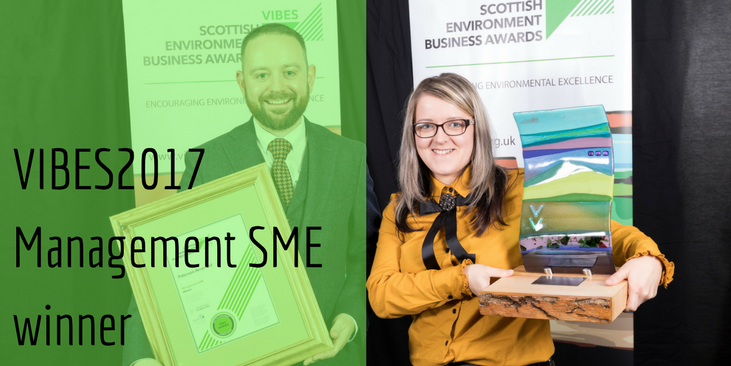 01 March 2018
This year, 38 Scottish businesses were shortlisted from a record number of entries. Each of the finalists underwent a rigorous judging process, including a programme of site visits, to assess their environmental practices.
The Management Award recognises businesses whose management systems deliver continuous improvement in environmental performance. This category is aimed at businesses that are taking a holistic approach to environmental improvement and can demonstrate the associated economic and social benefits that have been achieved.
The Management Award is split into two sections- Large (over 250 employees) and Small to Medium Sized Enterprises (SMEs) (less than 250 employees)
Sponsored by Centre for Sustainable Practice and Living
The Centre for Sustainable Practice and Living (CSPL) is a collaborative initiative between the University of Stirling's Management School and the Scottish Environment Protection Agency.
As an interdisciplinary research centre it aims to become one of the leading research and knowledge exchange centres globally studying the many dimensions of sustainability. CSPL brings together the public sector, academic research, business and environmental organisations to work collaboratively with sectors and communities towards a more sustainable future and a low carbon economy.
Although physically based at the University of Stirling the Centre is also a virtual network of experts across the public, academic and NGO sectors throughout the UK and beyond.
The Centre works with businesses who see environmental and social issues as market opportunities, to help develop transformational business models which place sustainability at the heart of decision-making.
Winner of the Management SME Award
The winner of this year's Management SME Award went to Paterson Arran Ltd.
Paterson Arran was founded in 1895 by a husband and wife team and has today become renowned for its shortbread, biscuits and oatcakes. Located in Livingston, West Lothian, the company's master bakers combine traditional methods with today's technology and resources to make the popular products. Its success is built on a simple formula: quality food from clean, sustainable ingredients.
Adam Wilson, Quality, Safety, Health & Environmental Manager at Paterson Arran Ltd, said: "We are honoured to have been recognised at this year's VIBES – Scottish Environment Business Awards. Winning the Management Award is real testament to several years of hard work and commitment from everyone at Paterson Arran in developing our Environmental Management System and reducing our impact on the environment. We are proud of our achievements and honoured to take our place amongst many other excellent companies who are working hard to deliver a sustainable future for Scotland."
The VIBES Management SME Award - Special Commendation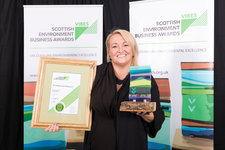 A special commendation this year was awarded to The Scottish Cafe & Restaurant
The Scottish Café and Restaurant are based at the National Galleries in Edinburgh. The Café has been a sustainable aware restaurant since opening in 2009 with a clear vision - Scottish, Seasonal, Sustainable.
The Management SME Finalists:
Ceteris (Scotland) Ltd
FIS Chemicals Ltd
Sibbald Limited