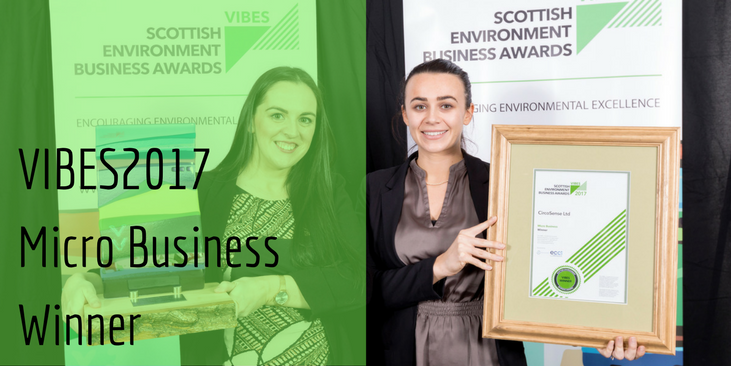 17 January 2018
This year, 38 Scottish businesses were shortlisted from a record number of entries. Each of the finalists underwent a rigorous judging process, including a programme of site visits, to assess their environmental practices.
The Micro Business Award is an additional award for the best entry to any category.  It is open to businesses with less than 10 employees.
Sponsored by Climate KIC - ECCI
The Edinburgh Centre for Carbon Innovation (ECCI) is the official partner of Climate-KIC – Europe's largest climate entrepreneurship programme – in Scotland. We're giving Scottish start-ups funding and dedicated support to develop a rock-solid business plan and take their target markets by storm.
ECCI, with an award-winning hub in Edinburgh and a new base in Hong Kong, brings together people from business, research, communities and governments to turn good low carbon ideas into reality. Part of the University of Edinburgh, we support a thriving community of low carbon enterprises and provide policy insight and evidence to inform government decisions.
Ed Craig, Head of Innovation and Enterprise at the Edinburgh Centre for Carbon Innovation (ECCI), said: "ECCI supports a thriving low carbon business community, bringing Climate-KIC - Europe's biggest climate entrepreneurship programme – to Scottish innovators and start-ups.
 "It was inspiring to see so many strong contenders for this year's Micro Business category, showing that climate innovation can drive businesses of all sizes to new heights.
"With Scotland's low carbon industries worth almost £11 billion a year, the VIBES Awards are a great way to celebrate those shaping the new climate economy."
Winner of the Micro Business Award
The winner of this year's Micro Business Award went to CircoSense Ltd.
CircoSense are based in Glasgow and manufacture, supply, install and maintain the CircoSense3000 device,. The CircoSense3000 device offers savings of ca. 30-45% on energy costs for commercial secondary return systems through cognitive technology which learns the building's hot water usage patterns.
David Jolliffe, Managing Director at CircoSense, said: "We are delighted to have been recognised at the 2017 VIBES - Scottish Environment Business Awards. Just being nominated in the Environmental Product or Service Award category is a huge achievement in itself, and winning the micro business award shows how much hard work the team have put in over the last 18 months to produce a product, which not only helps companies to save money but also significantly reduces carbon emissions. We are extremely proud to be one of the finalists alongside other excellent companies working hard to provide environmentally friendly products and services, and look forward to continuing to work hard to reducing carbon emissions across the UK and beyond with our innovative smart technology."
The Micro Business Finalists:
3f bio Ltd
Aurora Sustainability Ltd - Circular Coffee Chain
Beyond Green
Cauda Ltd
Glaze & Save Ltd
Industrial Nature Ltd
Jaw Brew
Kranog Ltd
Ogilvy Spirits
FairSquared Uk
WASPS Ltd
Water Engine Technologies Ltd.