10 December 2013
---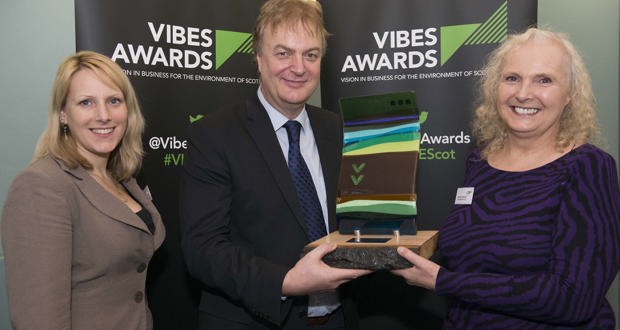 (From l to r) Helen Anderson, WaterAid Representative of Scotland & Northern Ireland, Marilyn Wakefield, Company Secretary, and Howard Dryden, Managing Director of Dryden Aqua, with their VIBES Hydro Nation Award.
This year's VIBES Awards saw a record number of applicants apply across all categories including Management, Changing Behaviour, Energy, Transport, Waste and Resources, Environmental and Clean Technology, Hydro Nation, Circular Economy and Micro Business. An impressive 35 companies went on to be shortlisted and received site visits from the VIBES Judges.
The Hydro Nation Award is a new award for businesses who have demonstrated expertise in maximising the economic benefit of water resources in Scotland and/or internationally. This category is aimed at businesses that can demonstrate how their usage, products or water services have brought environmental improvement and business benefits.
Sponsored by The Scottish Government
The Scottish Government supported the new Hydro Nation category as it recognises businesses that have proven expertise in maximising the economic benefit of water resources in Scotland and/or internationally. Research shows that only three per cent of the world's water is fresh and it is distributed unevenly across the globe. In response to this and the issue of limited access to clean water and sanitation in other countries around the world, the Scottish Parliament recently passed the Water Resources (Scotland) Act 2013 with unanimous support. The Act looks to seize opportunities to improve how Scotland uses water for economic gain, environmental improvement and social benefit. It also looks to promote Scotland as a Hydro Nation and act as an example to the rest of the world. WaterAid presented the Hydro Nation Award on behalf of the Scottish Government.
Winner of Hydro Nation Award
The winner of the Hydro Nation Award was Dryden Aqua Ltd.
Dryden Aqua Ltd is a manufacturing company specialising in water and wastewater treatment.
Their AFM (Active Filtration Media) is made from recycled green glass bottles, it has the potential to alleviate global issues with drinking water and it has a 50% lower operating cost in comparison to sand over a 10 year period. The company's sales projected to increase by 250% over the next 12 months once their new facility becomes available on-line.
On winning the award, Howard Dryden, Managing Director of Dryden Aqua, said: "As a marine biologist, I am completely driven by two things: keeping aquatic environments safe and minimising chemical use wherever possible. Our AFM media, which is made from green glass, was designed as a water filtration solution for the aquaculture sector as well as for waste water and drinking water. We basically turn glass into a molecular sieve to take very nasty things out of water."
"After 10 years of R&D, AFM® is now recognised as a sustainable and significantly more effective replacement for sand. This means we can help industry in Scotland and overseas look after water, by utilising waste green glass which can be used again and again. We were absolutely delighted to win the very prestigious VIBES Hydro Nation and Circular Economy Awards. My sincere thanks to the VIBES team for all their hard work and for this recognition of our efforts and commitment to sustainability."
The Hydro Nation Award Shortlist
Dryden Aqua Ltd was up against some strong competitors in the Hydro Nation Category with the following companies being shortlisted:
Biomatrix Water Solutions Ltd
Dry Lube Ltd
Reaqua Systems Ltd
Rio Tinto Alcan
The other finalists in this category were:
Biomatrix Water Solutions Ltd
Biomatrix Water Solutions Ltd is an ecological engineering and design firm. Their product provides a durable floating riparian edge solution, which can be retrofitted to hard-edge and heavily modified waterways. It aims to establish ecological balance, restore water quality and increase amenity value of the area. Previous projects undertaken by the company have seen up to 86% reduction in coliforms, a 63% reduction in Biological Oxygen Demands, a 50% reduction in Chemical Oxygen demands and 45% and 62% reductions in Ammonia and Phosphates respectively.
Dry Lube Ltd
Dry Lube Ltd offer water-free conveyor lubrication technology and services. They have seen a cumulative saving of 700 million litres of water globally from use of this product and chemical treatment of bio-film produced by wet lubrication is reduced or eradicated. The lubricant also reduces friction with reduction in energy consumption of 10%.
The VIBES Judges emphasised how well all of the shortlisted businesses have done in this year's Awards and how difficult it was to choose between them. We would like to congratulate all of the shortlisted companies on their achievements and hope that you will apply for VIBES in 2014.
Share this
Media Enquiries
For all press & media enquiries, please contact:
The BIG Partnership
3rd Floor
Fountain House
1-3 Woodside Crescent
G3 7UL
0141 333 9585
vibes at bigpartnership.co.uk