03 June 2015
---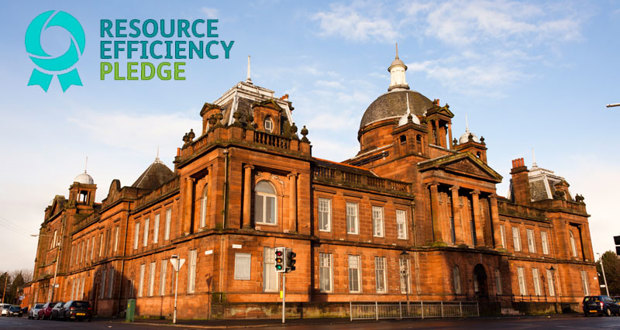 ... and showcases environmental credentials with support from Zero Waste Scotland!
Govan-based Film City Glasgow, a major centre for Scotland's film and television industries, and a previous VIBES Awards runner up, is putting its sustainability credentials in the spotlight detailing how it's saving money year-on-year thanks to making better use of resources like energy by taking part in Zero Waste Scotland initiatives like the Resource Efficiency Pledge and Green Network for Businesses. 
Zero Waste Scotland is funded by the Scottish Government to support the delivery of its Zero Waste Plan and other low carbon and resource efficiency policy priorities.  Zero Waste Scotland is helping Scotland to become more efficient in its use of resources (energy, water, raw materials). Promoting responsible business is therefore an important priority and through its Resource Efficient Scotland programme, free and practical support is available to businesses and organisations in the private, public and third sectors in implementing resource efficiency savings.
The Resource Efficient Scotland Programme runs "The Green Network for Businesses" a national network of more than 150 exemplar businesses which have successfully implemented measures to reduce their energy, water or raw material use.   It offers the opportunity to connect with green organisations in your local business community to help you save resources and cut costs.
Another initiative from Resource Efficient Scotland is its Resource Efficiency Pledge, for which Film City Glasgow is an ambassador, which supports and promotes businesses committed to sustainable growth.
Sarah Potter from Film City Glasgow tells us how the Resource Efficient Scotland programme from Zero Waste Scotland has helped with the implementation of resource efficiency measures and how she hopes this will stand them in good stead for a VIBES Award this year.
1. Why did you make a Resource Efficiency Pledge? What actions did you choose?
When we came to the end of the funded period of our Programme for Sustainability project we were eager to keep up momentum and to be part of a platform where we could share our journey and findings with other businesses.  We chose to complete and ambitious 6 actions in our first year, these were;
Share experience across the business community
Become an exemplar in resource efficiency
Develop a sustainable procurement policy
Set up a green team
Staff induction programme
A commitment to resource efficient construction
2. Since making a Resource Efficiency Pledge and joining the Green Network for Businesses, what resource efficiency improvements has Film City Glasgow implemented, and what impact have they had?
One of the key improvements Film City Glasgow has implemented due to the Resource Efficiency Pledge is the introduction of our Sustainable Procurement Policy. Since introducing the policy we have reviewed and consolidated our main suppliers, meaning that we get one monthly delivery from one local company for all our normal consumable items. Our supplier has sourced us the most ethical and environmentally friendly products, such as; concentrated biodegradable cleaning products made and packaged in the UK. 
3. What challenges have you faced when implementing changes and how have you overcome these?
One of our biggest challenges is getting new building users imbedded in our sustainable culture, we find the best way of doing this is to provide a range of information in a variety of ways. For example,  we have posters displayed in all of our offices that can be used for new start inductions, we hold sustainable events, we have a blog and update our tenants on sustainable news in our monthly newsletter. 
All of Duty Managers have undergone the free, online Green Champions training from Resource Efficient Scotland and the business used the Zero Waste Scotland downloadable guides to help write and implement its sustainable procurement policy.  Resource Efficient Scotland staff have also briefed Film City tenants on sustainable procurement. 
4. How would you describe your experience of the Resource Efficiency Pledge to other businesses?
The Resource Efficiency Pledge is an excellent motivator to get businesses investigating more ways they can be efficient and sustainable. It provides a structure for businesses to make achievable targets whilst taking advantage of free support from Resource Efficient Scotland and encourages you to think of areas of development that you might not have considered. 
5. How has the Resource Efficiency Pledge benefited your business?
It's great to have our sustainable achievements and endeavours recognised by a Scottish Government initiative. Making a pledge in this way allows us and our team of staff to set and achieve goals together, we take great pride in being a team of staff who have all been part of the Pledge process. The Pledge has defiantly elevated our network and we are very pleased to have been invited to speak about our journey so far at All Energy in May 2015!  
Since making a Pledge, we have set up a blog to catalogue sustainability initiatives. For example, we now have a major programme of staff engagement, a Film City 'green team' and a monthly newsletter for tenants and support for green travel, including pool bikes. Buildings have been fully insulated and the business is committed to resource efficient construction.
6. You are now a Resource Efficiency Pledge Ambassador, what does this mean?
It's great to have our sustainable achievements endorsed by the Resource Efficient Scotland programme. We are in the unique situation of managing a space for creative businesses which provides us with a lot of opportunity to inspire businesses to make sustainability a priority. 
By becoming a Pledge Ambassador we are cementing our goals to be an exemplar in resource efficiency. We want other businesses to feel confident that they can contact us to get some friendly advice on how they could be more sustainable. We are in the unique situation of managing a space for creative businesses which provides us with a lot of opportunity to inspire businesses to make sustainability a priority.  
7. What are the benefits for your business in being part of the Green Network for Businesses?
It gives us the opportunity to lead by example and inspire others by sharing our implementation experiences as well as networking with like-minded businesses from different sectors. 
We have had the opportunity for national PR and marketing exposure, such as being invited to speak at the recent national All Energy 2015 conference in Glasgow.  This kind of activity helps us fulfil our corporate social responsibility aspirations.
8. What would you say to other businesses in general keen to showcase their environmental credentials?
If your business has been making resource efficiency and sustainable improvements, you should let people know! Firstly, we all need to raise awareness that being sustainable is an important part of any businesses development, management and operations, not only is it good for the planet – but there are huge costs savings to be made. We have also found that applying for awards such as VIBES and getting involved in initiatives such as Resource Efficiency Pledge, is a great way of testing how far your organisation has come and what more you could be doing.
9. As a shortlisted VIBES business from 2013, are you planning to enter the awards for 2015?
We will absolutely be applying for VIBES 2015, we've come a long way since 2013 – so I hope that gets us closer to winning an award this year!
Businesses interested in finding out more about the Resource Efficiency Pledge or Green Network for Businesses, should contact the Resource Efficient Scotland programme team on 0808 808 2268  to get involved.
Share this
Media Enquiries
For all press & media enquiries, please contact:
The BIG Partnership
3rd Floor
Fountain House
1-3 Woodside Crescent
G3 7UL
0141 333 9585
vibes at bigpartnership.co.uk