01 December 2015
---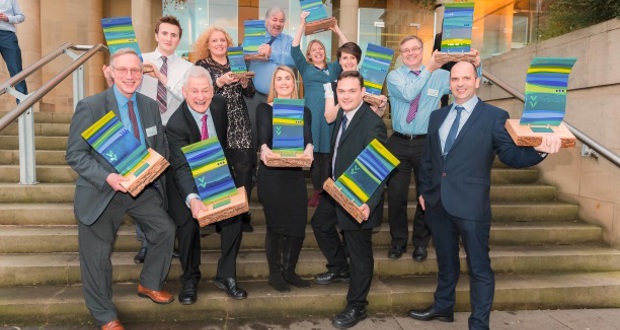 City Car Club, Taylor Wimpey West Scotland and C&D Associates LLP (joint winners), Better World Books, Emtelle UK Ltd., CMS Window Systems, Aberdeen Heat & Power Ltd., Bridge Biotechnology and Lobster Pod each picked up a coveted green award at the ceremony held in Edinburgh's Sheraton Hotel on Thursday 26th November. The annual event was attended by more than 300 people from a wide range of Scottish businesses. Clyde Shopping Centre and Tinto Toners also received commendations.
Six micro-businesses, Brae Cottage B&B, Castle Enterprise, Uist Wool, Greenspace Live, Film City Glasgow and Loch Ken Bothies were presented with certificates of good practice for their environmental efforts.
The VIBES Awards is Scotland's leading environmental awards scheme which recognises and rewards businesses that contribute to the country's sustainable development by taking significant steps to improve or reduce their impact on the environment.
Following a record number of entries, 27 Scottish businesses were shortlisted for the 2015 awards. A rigorous judging process was undertaken, including a programme of site visits, to assess the environmental practices of each of the finalists.
The awards aim to encourage efficient use of resources, enhance business competitiveness, improve environmental performance and support wider sustainable development goals. Awards were presented for each of the eight categories: Management (Large and SME), Environmental Product or Service, Transport, Co-operation (joint award), Hydro-Nation and Circular Economy and Micro Business (a full breakdown of winners is detailed in the notes to editors).
Gillian Bruce, Chair of the VIBES Awards, commented: "We would like to congratulate all our 2015 winners and finalists. The standard of entries this year was very high with many companies demonstrating how putting sustainability at the heart of their business operations can also benefit the bottom line.
"The winners impressed the VIBES judges throughout the process with their commitment to environmental excellence.  We have had a great day celebrating their achievements and hope many more companies will be inspired to follow their example by recognising the benefits of sustainability in business."
Each of the 2015 VIBES winners is now eligible to enter the 2016 European Business Awards for the Environment (EBAE). In 2014 six out of the 12 entries representing the UK were chosen from previous VIBES Awards winners.  Edinburgh-based Vegware and Stonehaven's Bay Fish and Chips were selected as the only UK finalists in 2014, putting Scotland firmly on the map in terms of sustainable business practices in Europe.
The VIBES Awards is a strategic partnership between Scottish Environment Protection Agency, Scottish Government, Scottish Water, Scottish Enterprise, Highlands and Islands Enterprise, Zero Waste Scotland, Energy Saving Trust and the 20:20 Climate Group. The Awards are further supported by CBI Scotland, the Institute of Directors, the Federation of Small Businesses and Bright Green Business.
Sponsoring the awards this year are Scottish Government, ScottishPower, Zero Waste Scotland, Brand-Rex, EMEC, Pernod Ricard Chivas Regal, Lothian Buses, Centre for Sustainable Practice & Living and The University of Stirling Management School.
The Awards are accredited by the RSA Environment Awards Accreditation Scheme (www.rsaaccreditation.org). 
Full List of Winners and Categories with Winners' Comments and location for VIBES Awards 2015:
Management (Large) (Sponsored by Pernod Ricard Chivas Regal) Winner - Emtelle UK Ltd. (Scottish Borders)
John Bathgate, SHEQ Manager at Emtelle UK Ltd., said: "Emtelle is delighted to have won this VIBES award. It is a real reflection of the commitment from our staff and their attitude towards reducing our environmental impact. We continue to enter these awards as they provide stiff competition and to win one means that our performance is at the benchmark level in Scotland."
Management (SME) (Sponsored by Stirling University Management School) Winner - CMS Window Systems (North Lanarkshire) Commendation - Clyde Shopping Centre (Clydebank)
Martin McCrimmon, director of IT and business systems at CMS Window Systems, said: "It is a great honour to win the VIBES Management award. Since our inception in 2006, we knew we could do things differently and better in a way that would benefit all stakeholders - our customers, our employees and the local communities in which we operate, whilst having minimal negative impact on the environment.
"We recognised that by setting up our business and operating it in a way that other manufacturers could only aspire to, required a clear strategy from the outset that considered the environmental and energy impact of every aspect of how our business runs."
Co-operation (Sponsored by Brand-Rex) Winner - Taylor Wimpey West Scotland (based in Renfrewshire) and C&D Associates (Edinburgh based) (joint winners) 
Stephen Andrew, technical director for Taylor Wimpey West Scotland, said:  "We're really delighted that our Torrance Park Water Project has secured such a high-profile award.  It recognises the strength of the entire team that's been working together for some time now, and it truly reflects the benefit of collaborative working where each organisation is using its expertise to create an innovative way to encourage greener gardens that will contribute to the wider green infrastructure."
Neil Campbell and Brian D'Arcy, partners of C&D Associates LLP, said: "We are thrilled to have received a VIBES Award. At C&D Associates, our focus is on exploring new ideas to bring about practical solutions to hitherto intractable problems that in turn bring significant environmental and business opportunities to Scotland.  We wish to thank the VIBES organisers, judges and sponsors for their vision, commitment and enthusiasm. VIBES is a very useful interface between environmental interests and business, creating opportunities to raise awareness of good practice and innovation."
Environmental Product or Services (Sponsored by ScottishPower) Winner - Aberdeen Heat & Power Ltd. (Aberdeen)
Ian Booth, general manager at Aberdeen Heat & Power Ltd., said: "Aberdeen Heat & Power Ltd. is delighted to be able to win this prestigious VIBES Award.  The company was formed in 2002 to deliver affordable heat to alleviate fuel poverty, through a district heating model particularly for hi-rise social housing blocks, and this mantra is still very valid today. 
"The various District Heating systems we operate in Aberdeen now supply heat to over 2000 homes and 15 public buildings from efficient, low carbon Combined Heat & Power energy centres.  We have the long term ambition to grow the district heat networks around the city and are justly proud to be able to win such a valued award to further the aims of the company"
Transport (Sponsored by Lothian Buses) Winner - City Car Club (Edinburgh based)
Dan Gursel, managing director of City Car Club, said: "Winning a VIBES Award is an incredible achievement for City Car Club, and one more big step for what has been an important year for our business.
"Earlier this year we were acquired by Enterprise Rent-A-Car with the remit to develop and grow our capabilities to deliver a better and more sustainable service for local communities across the UK. We're already seeing electric vehicles in Edinburgh and around the country, as well as business car clubs that are helping local authorities and companies to reduce their emissions and travel costs. Winning this award is vital recognition that we can make a real difference to communities and the environment."
Hydro Nation (Sponsored by Scottish Government) Winner - Bridge Biotechnology (based in Fife)
Nick Montgomery, Scientific Liaison Officer at Bridge Biotechnology, said: "Bridge Biotechnology is delighted to receive this recognition for our novel range of sustainable disinfection and purification products, and the environmental ethos we have as a company. VIBES does a fantastic job showcasing upcoming technology and companies, and to win an award among such strong competition is a real honour."
Circular Economy (Sponsored by Zero Waste Scotland) Winner - Better World Books (Fife) Commendation – Tinto Toners (North Lanarkshire)
Mairi McManus, managing director of Better World Books, said: "Better World Books is thrilled to have won the VIBES Award.  Our business model was built to support global literacy through book reuse.  Giving books the opportunity to be enjoyed over and over again, and reusing our shipping materials helps us do our part to support a sustainable environment. 
"As a global B Corporation, Better World Books has reused or recycled over 198 million books.  We encourage you to do your part by buying from or donating to us at Better World Books so we can continue to help the environment and support literacy through book reuse."
Best Micro Business (Sponsored by EMEC) Winner - Lobster Pod (Fife)
Errin Todd, co-founder of Lobster Pod, said: "Lobster Pod is an innovative live shellfish storage and transportation system.  We are delighted to have won the Best Micro Business VIBES Award which celebrates our aims of enhancing fisheries and helping to create a more sustainable supply chain for shellfish.   Best Fishes to all of our customers and supporters at Scottish Edge, Business Gateway Fife and Scottish Enterprise."
Special Certificates: Brae Cottage B&B Castle Enterprise Greenspace Live Loch Ken Eco Bothies Uist Wool Film City Glasgow
Share this
Media Enquiries
For all press & media enquiries, please contact:
The BIG Partnership
3rd Floor
Fountain House
1-3 Woodside Crescent
G3 7UL
0141 333 9585
vibes at bigpartnership.co.uk