29 November 2018
---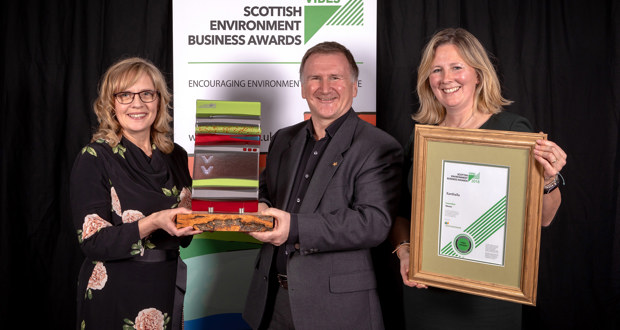 Businesses in Scotland are continuing to step up to increasing environmental challenges: 12 Scottish companies were rewarded for their commitment to sustainability at the VIBES – Scottish Environment Business Awards. In a series of blogs over the next few weeks, we are exploring who are VIBES 2018 Winners and Commended. Today – the innovation category.
The Innovation Award recognises businesses, that have developed, innovative technologies, products, practices or services that bring environmental and business benefits. This category highlights the ability of businesses to promote sustainable consumption, reduce environmental impacts and create new business opportunities
Sponsored by ScottishPower
ScottishPower is part of the Iberdrola Group, a global energy company and world leader in wind energy. They operate in the generation, transmission and distribution of electricity, energy management and supply of gas and electricity in the UK.
They are committed to leading the development of clean and competitive electricity, modernising electricity networks to improve quality of service and increase customer choice through digital enhancements.
Linda White, Sustainability & Quality Manager at ScottishPower said: "We are delighted to sponsor the Innovation Award and recognise leadership in Scotland's business community. Huge congratulations to Xanthella, a worthy winner of this year's Award! An inspiring example of how a company is driving sustainable economic growth in Scotland through innovation".
Winner of the Innovation Award: Xanthella
The winner of this year's Innovation Award went to Xanthella.
Xanthella develops and manufactures photobioreactors that use innovative LED technology to produce microalgae and other photosynthetic cells. The cultivation systems are highly flexible and available in several sizes for different applications, from research lab work to industrial production. The recent project uses renewable energy to provide power to the LED light source.
Dr Douglas McKenzie, Chief Executive at Xanthella Ltd, said: "We are proud to have been recognised at this year's VIBES – Scottish Environment Business Awards in the Innovation category. Collecting a VIBES Award is a real testament to the hard work and commitment from everyone at Xanthella and our partners. The Awards are a fantastic way to bring the ground breaking ASLEE – ENBIO project to a wider audience and an excellent opportunity to find out more about other like - minded Scottish businesses working to benefit the environment and inspire others."
The Innovation Finalists:
Share this
Media Enquiries
For all press & media enquiries, please contact:
The BIG Partnership
3rd Floor
Fountain House
1-3 Woodside Crescent
G3 7UL
0141 333 9585
vibes at bigpartnership.co.uk