12 December 2018
---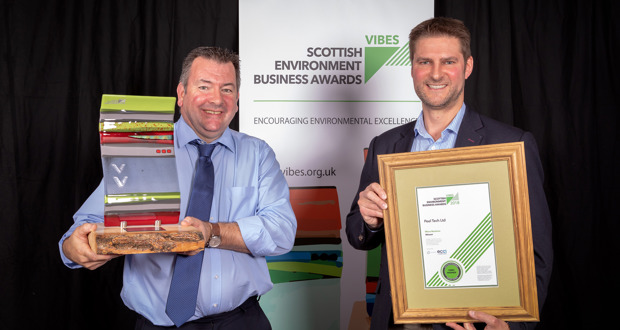 Businesses in Scotland are continuing to step up to increasing environmental challenges: 12 Scottish companies were rewarded for their commitment to sustainability at the VIBES – Scottish Environment Business Awards. In a series of blogs over the next few weeks, we are exploring who are VIBES 2018 Winners and Commended. Today – the Micro Business category.
An additional award for the best entry to any category from a company with fewer than 10 employees.
Sponsored by Climate KIC through ECCI
The Edinburgh Centre for Carbon Innovation (ECCI) is the official partner of Climate-KIC – Europe's largest climate entrepreneurship programme – in Scotland. They are giving Scottish start-ups funding and dedicated support to develop a rock-solid business plan and take their target markets by storm.
ECCI, with an award-winning hub in Edinburgh and a new base in Hong Kong, brings together people from business, research, communities and governments to turn good low carbon ideas into reality. Part of the University of Edinburgh, they support a thriving community of low carbon enterprises and provide policy insight and evidence to inform government decisions.
Presenting the award ECCI Director Professor Andy Kerr said: "There is nothing more inspiring than seeing small companies with big ideas grow and flourish on the Climate-KIC programmes at ECCI.
"It's astonishing what small companies can achieve when they have the support to scale up solutions.
"It's this talent, Scotland's excellent support frameworks and consistent political backing that make a vibrant zero carbon future possible."
Winner of the Micro Business Award: Peel Tech Ltd
The winner of this year's Micro Business Award went to Peel Tech Ltd.
Peel Tech Ltd created a small, compact system, which can be easily installed, using a patented membrane and spray technology, to capture potato peel and starch. In 2017, a more advanced system has been developed – the Peel Tech Plus system, domestic under sink & U.V. Peel Tech also won VIBES 2014 Hydro Nation Award.
Peel Tech Director Malcolm Wood said: "It makes me so proud to be the winner of the VIBES Micro Business Award.
"VIBES is one of the most prestigious prizes on offer for sustainable Scottish businesses and it's especially fitting to receive this from ECCI who do such important work for the low carbon sector."
The Micro Business Finalists:
Aqualution Systems Ltd
Beyond Green
eRally Motorsport Ltd and Knockhill
Racing Circuit Ltd
Greens deli
IntelliDigest Ltd
Kittiwig Ltd
McCormack Innovation Ltd
nextGenergy
Peel Tech Ltd
Proterra Energy Ltd
Remade in Edinburgh
Renewable Parts Ltd –
Refurbishment Centre
St John's Shopping Centre
The Wildcat Cafe Ltd
TreeGreen trading as EGG lighting
Xanthella Ltd
Share this
Media Enquiries
For all press & media enquiries, please contact:
The BIG Partnership
3rd Floor
Fountain House
1-3 Woodside Crescent
G3 7UL
0141 333 9585
vibes at bigpartnership.co.uk