11 January 2019
---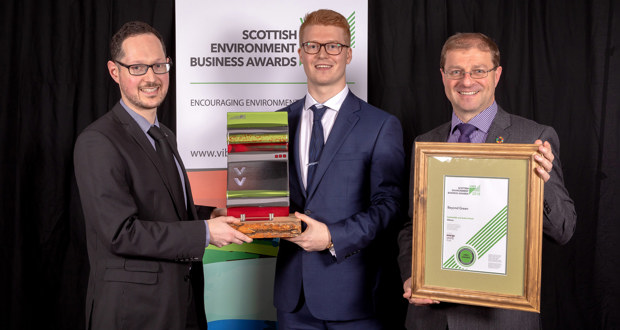 Businesses in Scotland are continuing to step up to increasing environmental challenges: 12 Scottish companies were rewarded for their commitment to sustainability at the VIBES – Scottish Environment Business Awards. In a series of blogs over the next few weeks, we will be featuring VIBES 2018 winners and commended businesses. Today it's the Sustainable and Active Travel category.
The Sustainable and Active Travel award recognises businesses that have achieved a significant, measurable reduction in their environmental impact through the introduction of sustainable transport practices.
Sponsored by Energy Saving Trust
Their free, expert and impartial advice could help your organisation save energy and money. They can advise you about available funding and support to help you reduce transport costs and emissions. They can also help you to engage with your employees to help them save energy, lower costs and reduce carbon emissions.
Matthew Eastwood, Head of Transport at Energy Saving Trust said: "Energy Saving Trust would like to congratulate all of the organisations shortlisted for the 2018 VIBES Sustainable and Active Travel Award and especially Beyond Green, the very deserving winners of the award. Sustainable and active travel has an important role to play in helping decarbonise road transport in Scotland and it's also important that we recognise, celebrate and disseminate examples of best practice to help drive positive change."
Winner of the Sustainable and Active Travel Award: Beyond Green
The winner of this year's Sustainable and Active Travel Award went to Beyond Green.
Beyond Green, based in Edinburgh, is dedicated to helping organisations become more sustainable. The company collaborate with stakeholders to achieve six key outcomes for SMEs; reduce costs from resource efficiency, control business risks, build reputation, generate clean energy, facilitate staff engagement, and create long-term strategies. They encourage Active Travel to work and to clients where possible.
Oliver Byrne, Sustainability Advisor at Beyond Green, said: "We are delighted at Beyond Green to win a VIBES award for Sustainable and Active Travel as it highlights the commitment of the team and the values we hold. It is wonderful to see our continued efforts to create positive change be recognised by such a prestigious award."
The Sustainable and Active Travel Finalists:
Share this
Media Enquiries
For all press & media enquiries, please contact:
The BIG Partnership
3rd Floor
Fountain House
1-3 Woodside Crescent
G3 7UL
0141 333 9585
vibes at bigpartnership.co.uk