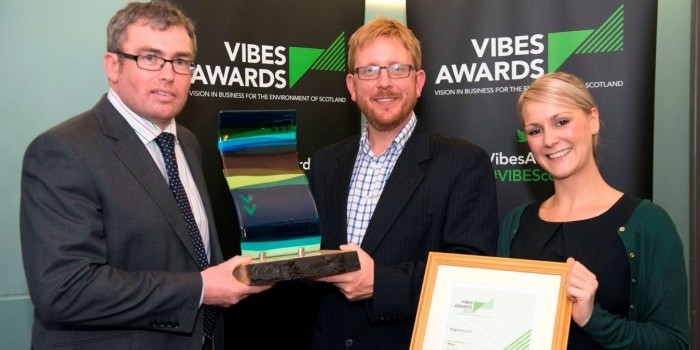 10 December 2013
(From l to r) Alister Wait, Operations Director (Industrial Services) at Enviroco with Even Wells, Sales Representative, and Eilidh Brunton, Recycling Consultant, from Vegware with their VIBES Waste and Resources Award
This year's VIBES Awards saw a record number of applicants apply across all categories including Management, Changing Behaviour, Energy, Transport, Waste and Resources, Environmental and Clean Technology, Hydro Nation, Circular Economy and Micro Business. An impressive 35 companies went on to be shortlisted and received site visits from the VIBES Judges.
The Waste and Resources Award is for businesses who can demonstrate that through effective management they have diverted waste from landfill whilst saving money and/or creating new business opportunities.
Sponsored by Enviroco
Enviroco is the leading provider of waste management services to the UK oil and gas industry and is the sponsor of the 2013 Waste and Resources Award. The organisation has provided innovative waste management solutions since it formed in 1998. Enviroco boasts approximately 180 staff members in 12 locations across the UK and Trinidad, with over 110 of these staff members based in its Scottish sites in Peterhead and Aberdeen.
Winner of the Waste and Resources Award
The winner of this year's Waste and Resources Award is Vegware Ltd.
Vegware Ltd designs, manufactures and distributes a full range of completely compostable catering disposables, suitable for food waste recycling after use. Their packaging is plastic-free, low-carbon, made from recycled or renewable plant materials. In 2012, their UK customers saved 464 tonnes of carbon and 366 tonnes of virgin materials. They introduced a free non-profit matchmaking service the Food Waste Network, to help customers divert used Vegware products from landfill.
On receiving the award, Eilidh Brunton, Recycling Consultant at Vegware, said: "Vegware won the Waste and Resources Award, but beyond our completely compostable catering disposables, the judges were particularly impressed by our additional services helping businesses to go zero waste, like our free food waste matchmaking service Food Waste Network. Winning a VIBES Award is a huge independent seal of approval, hard won after half a day's grilling by three judges, and against extremely stiff competition. Scotland is leading the UK in affecting real environmental change and we are delighted to be part of the booming green economy."
The Waste and Resource Award Shortlist
Vegware Ltd was up against tough competition in the Waste and Resources category against shortlisted companies such as:
Changeworks Recycling
Dawnfresh Seafoods Ltd
Gordon & MacPhail
Newsprinters
Noble Foods
ScotAsh Limited
Soilutions Ltd
Vegware Ltd
William Tracey Group
Yooz
The other finalists included:
Dawnfresh Seafoods Ltd
Dawnfresh Seafoods Ltd is one of the largest suppliers of fresh and frozen fish and fish products in the UK, they achieved zero waste to landfill in October 2012 and diverted 1,824 tonnes through reuse, recycling and refuse derived fuel. They are currently saving 5% electricity, 9% gas and 36% water, amounting to £36K financial saving. They work with Marks & Spencer's and their business has increased from 33% to 45% because of improved environmental credentials.
Gordon & MacPhail
Gordon & MacPhail are an independent, family owned and managed whisky firm, and they now collect and recycle 45-50 tonnes of cardboard. They had savings of approximately £16,000 last year from landfill savings and income generation and they have implemented   a new approach including: staff recycling training, low energy lights, motion sensors , hippo bags and urinal flush control units.
The VIBES Judges would like to stress how well all of the shortlisted businesses did in this year's Awards and how difficult it was to choose between them. We would like to congratulate all of the shortlisted companies on their achievements and hope that you will apply for VIBES in 2014.
A case study on Vegware Ltd will be available soon.