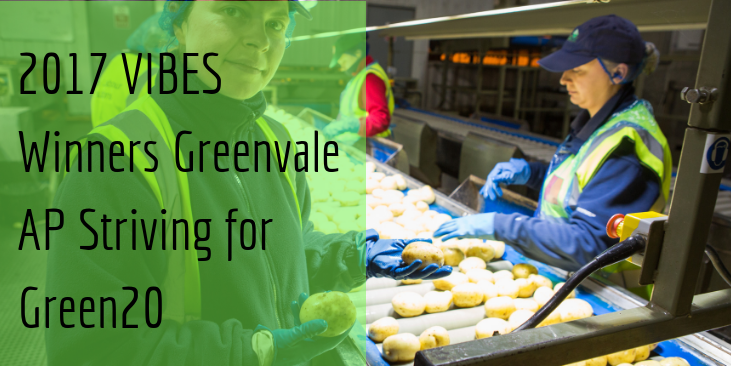 09 October 2018
In 2017, we were delighted to receive our coveted VIBES accolade. We were awarded the Management Large category presented by VIBES Scottish Environment Business Awards.
Greenvale is one of the UK's leading suppliers of fresh potatoes and the UK's largest grower of organic potatoes, based in the Scottish Borders. We predominantly provide own label produce to UK supermarkets and foodservice customers.
As a leading player in the fresh potato sector, we believe that we have a real responsibility to help shape the way in which the industry operates, continually challenging convention and looking for technological advances that can help the industry become more efficient, thus reducing our collective environmental impact.
The team at Duns were delighted to have been recognised for contributing to Scotland's sustainable environment which reflected the hard work and contribution from all 350 staff.
The business was scrutinised over 3 judging rounds and we were required to demonstrate our achievements in environmental best practice. Overall the process allowed Greenvale to showcase in detail our high standards which otherwise would remain internal targets and results which wider audiences may never get to hear about.
As a business we continue to challenge ourselves and our commitment to environmental best practises which is reflected in our challenging Green20 strategy that we are currently working towards. This replaces Green15 which was delivered, as the name suggests, in 2015.
To date we have installed a water recycling plant, moved to LED lighting and have delivered zero waste to landfill which are just a selection of the projects delivered.
Being part of VIBES has been rewarding and we hope to enter again in the foreseeable future. We would encourage other businesses throughout Scotland to look into the awards. It's a fantastic way to meet like-minded businesses and provides the opportunity to share and gain knowledge from one another which will ultimately lead to better environmental practice.