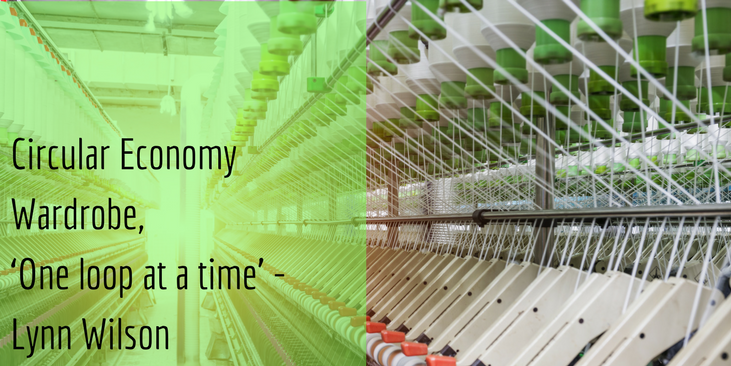 19 March 2018
When I worked in the Circular Economy team at Zero Waste Scotland I had the privilege of being a VIBES judge for two years within the categories of innovation and circular economy. Both times companies that I judged won the top prize in their category. The main things that struck me about those companies when out on the judging visits was that they knew their business inside out and could clearly answer any question without an aid or a prompt. They demonstrated passion for the importance of the environmental impact of their business equalled by commitment to innovation and the circular economy. They didn't just fill in an awards form, they lived it every day and could talk about it with easy conviction.
My first job at ZWS was as the Sector Manager, Textiles and then the high value manufacturing sector. The role was to lead on implementing a circular economy engagement and training strategy for Scotland's textiles sector from 2013 - 2016. Since then Textiles Scotland and the Industry Leadership Group (ILG) has been formed and works hard for the future of the industry. New textiles and fashion companies spring up every week and in the last five years I have noticed a real entrepreneurial spirit, business community and championing of the industry not just the traditional big players but the sole traders and the SMEs.
It goes without saying that Scotland has a diverse, world leading textiles industry and a growing fashion sector. Scottish textiles are recognised globally for quality, durability, provenance and more recently technological advances. Textiles is a broad encompassing word and covers everything from our luxury cashmere, performance wear, medi-tech, recycling and material advances. The VIBES organisers would like to see more applicants from the textiles sector. The award application process can seem daunting for a small business or just another form to fill in when you're already up to capacity with form filling and behind on client deadlines. However, it is not just an award, by winning or even being shortlisted for an award hosted by Scotland's environment agency supported by our enterprise and waste agencies it is a true seal of approval that a company is going beyond compliance. This is a message that goes a long way in the international arena where provenance, credibility and marks of accreditation, standards, membership of industry bodies and awards matter.
Therefore this is a call out to the Scottish textiles, fashion and cultural industries. Give the VIBES a go and you'll be surprised at what you'll learn on the journey as long as you aim to win!
Lynn Wilson, FRSA
Circular Economy Wardrobe
Join us at our The Future of Textiles and Fashion in Scotland on 26th March 2018 at Glasgow School of Arts. Register: https://www.eventbrite.co.uk/e/the-future-of-textiles-and-fashion-in-scotland-vibes-event-tickets-43982037458