VIBES Award: Waste & Resources
Sponsored by: Enviroco
Highlights:

Launched FoodWasteNetwork.org.uk – This is a free to use website which provides support to businesses that generate food waste,
Mapped all trade UK food waste recycling services to help customers divert used Vegware from landfill. This information is available via the Food Waste Network website.
Provide zero waste support services to help customers boost recycling rates of all waste streams.
In 2012, UK customers saved 464 tonnes carbon and 366 tonnes of virgin materials
Team has grown from 2 in 2009 to 35 this year.
UK sales increase of 60-70% annually
901% growth over last 5 years – 3rd fastest growing firm in Scotland, 30th fastest in UK, 160th fastest in Europe, the Middle East and Africa
Received three dozen awards since 2009
Potential to save all UK customers over £30,000 collectively
The Vegware Community Fund gives small monthly grants to sustainability non-profit groups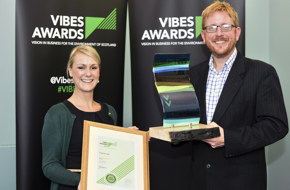 Vegware Ltd develops, manufactures and distributes a full range of completely compostable food packaging and catering disposables. The products are plastic-free, low-carbon, made from recycled or renewable plant materials and all are suitable for recycling along with food waste after use.
The Waste and Resources Award is for businesses which can demonstrate that through effective management they have diverted waste from landfill whilst saving money and/or creating new business opportunities. The VIBES judges felt that Vegware, as a company is innovative and continually improving their products in a global market place. The company has also rapidly expanded verifying strong business benefits from an environmental product.
Vegware, a previous winner of the VIBES Micro Business Award in 2010, has grown rapidly in the last four years to become a team of 35, supplying their products and giving waste management advice to businesses across the UK. They are extremely conscious of waste and resources issues within the food waste / food waste packaging / catering industry and use their expertise to advise other businesses within the industry on best practice for food waste recycling. This approach has also helped to promote their business interests.
VIBES Judges were impressed with the company's range of, fully compostable, products and packaging for disposable food and drinks. Their commitment to their environmental approach is clear in their range of policies including CSR, Environmental Policy, Equal Opportunities Policy, H&S Policy, Quality Management Statement, Ethical Sourcing Policy which all reference sustainability and minimising environmental impacts.
The environmental benefits of the Vegware product largely profit their customers. Vegware is able to determine and communicate carbon savings to each client on an individual basis and have calculated that the switch to Vegware products could save their customers over £30,000 collectively. The company has now expanded to operate in the US, South Africa and Europe.
In addition to the Vegware product, the company has also launched the Food Waste Network. It provides support to all businesses that generate food waste and the service is seen as a driver towards zero food waste going to landfill and for businesses to meet their obligations towards the new waste regulations. The Food Waste Network is a useful mechanism for putting food waste producers in contact with relevant food waste recycling services and complements the ethos of Vegware as well as highlighting the commitment that the company has towards food waste recycling.
The company is committed to communicating waste savings and carbon savings to its customers. Monitoring information is available as live feed via their website.  This identifies carbon savings from using compostable packaging instead of PET and virgin material saved by using recycled packaging and potential landfill diversion (if all products sold were composted rather than landfilled).  This information is also provided on invoices to customers to give them their own personal data.
The judges were impressed that Vegware is the only company in UK where the total range is compostable. Their innovative design concept – where the packaging can be composted along with the food waste – is noteworthy, particularly with waste regulations requiring separate collection of food waste from January 2014.  Vegware are continually looking to develop products that will compliment the existing range and have recently developed a compostable cup lid. They are also working on a gourmet box for ready meals.
Vegware products are completely pioneering and the level of uptake by companies implies a shift in behaviour away from disposal to food waste recycling, as well as generating significant environmental benefits and cost savings. The Food Waste Network is a unique service within the industry that did not exist prior to its inception by Vegware. These aspects are what the judges felt made Vegware an excellent winner of the Waste and Resources Award.
Eilidh Brunton, recycling consultant at Vegware said: "Vegware won the Waste and Resources Award, but beyond our completely compostable catering disposables, the judges were particularly impressed by our additional services helping businesses to go zero waste, like our free food waste matchmaking service Food Waste Network.  Winning a VIBES Award is a huge independent seal of approval, hard won after half a day's grilling by three judges, and against extremely stiff competition. Scotland is leading the UK in affecting real environmental change and we are delighted to be part of the booming green economy."