25 May 2012
---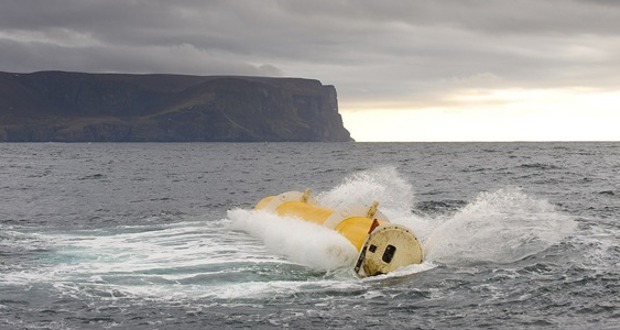 Scottish company, Aquamarine Power, received international recognition at the prestigious European Business Awards for the Environment in Brussels yesterday (24 May 2012).
The pioneering company – which has offices in Edinburgh, Orkney and Belfast – was presented with the Product Award for its Oyster wave energy technology, by Karl Falkenberg, director general for environment, European Commission.
Aquamarine Power has developed an innovative hydro-electric near-shore device known as Oyster. The system, which captures wave energy and converts it into clean sustainable electricity, could also potentially be used for reverse osmosis desalination.
Aquamarine Power was selected as an EU Finalist from a record 156 entrants across Europe, after winning a special commendation at The VIBES Awards in 2010, and was the only Scottish winner at the EBAE ceremony. Marks & Spencer was the only other UK winner at the event after triumphing in the Management Award category.
UK entrants for Europe are selected from the winners of RSA Accredited award schemes from the past two years. The VIBES Awards is the only awards scheme in Scotland that feeds in to the prestigious awards.
The Vision in Business for the Environment of Scotland (VIBES) Awards recognise the commitment, actions and achievements of Scottish companies in reducing their impact on the environment.
Martin McAdam, chief executive officer of Aquamarine Power, said: "Marine energy has a massive role to play in helping Europe meets its challenging carbon reduction targets. This award recognises the potential that innovative technologies such as Oyster have, not just in moving to a green energy future, but also in providing new growth areas for European economies and new opportunities for coastal communities reliant on declining natural resources."
"This award is a great honour for Aquamarine Power and we would like to thank the European Commission, the Commissioner for the Environment and the judging panel for this recognition."
"This award is for the brilliant, hard-working and dedicated team at Aquamarine Power and our shareholders, especially ABB, SSE and the Scottish Government, who continue to support the creation of a new marine energy industry."
Gillian Bruce, VIBES chair, said: "We would like to congratulate Aquamarine Power on representing Scotland at the European Business Awards for the Environment and gaining this excellent recognition."
"Aquamarine Power impressed the VIBES judges with its innovation, dedication and support for sustainable practices while also protecting its bottom line. We hope that other Scottish businesses will follow Aquamarine Power's example, achieve their environmental goals, and gain Europe-wide recognition."
Share this
Media Enquiries
For all press & media enquiries, please contact:
The BIG Partnership
3rd Floor
Fountain House
1-3 Woodside Crescent
G3 7UL
0141 333 9585
vibes at bigpartnership.co.uk