10 December 2013
---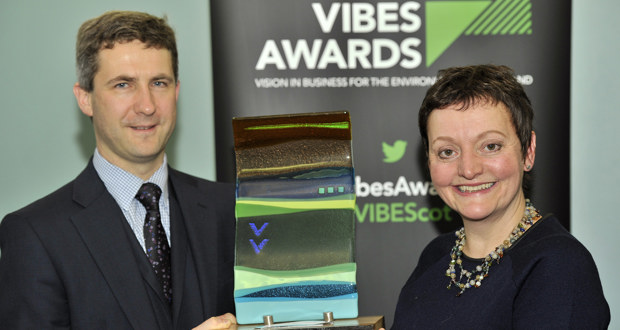 (From l to r) Ronald Daalmans, Environmental and Sustainability Manager at Chivas Brothers, and Heather Anderson, Director of Whitmuir Organics, with their VIBES Changing Behaviour Award
This year's VIBES Awards saw a record number of applicants apply across all categories including Management, Changing Behaviour, Energy, Transport, Waste and Resources, Environmental and Clean Technology, Hydro Nation, Circular Economy and Micro Business. An impressive 35 companies went on to be shortlisted and received site visits from the VIBES Judges.
The Changing Behaviour Award recognises businesses whose initiatives to change behaviour have helped deliver continuing improvement in environmental performance. These initiatives can be aimed at employees, customers and/or their supply chain.
Sponsored by Chivas Brothers Pernod Ricard
Chivas Brothers is the Scotch Whisky and Premium Gin business of Pernod Ricard, the world's co-leader in wines and spirits. It is the global leader in Luxury Scotch Whisky with 85% market share of Scotch Whisky aged 21 years old and over. The company produces exports and markets some of the world's best known and highest quality malts, blends and premium gins.
Ronald Daalmans, Environmental and Sustainability Manager at Chivas Brothers,  presented the Changing Behaviour Award saying: "We were delighted to sponsor the Changing Behaviour Award as it is in line with our ethos of driving environmental improvement through behavioural change across our business and supply-chain."
Winner of the Changing Behaviour Award
The winner of this year's Changing Behaviour Award went to Whitmuir Organics Ltd.
Whitmuir Organics Ltd is a working organic farm with a shop, restaurant and butchery. The company ethos is reinforced by creative messaging across the site to ensure staff and visitors are aware of their commitments. Their decisions on suppliers and products are based on the associated environmental impact and training is provided to suppliers. The company's energy use has been reduced by 30-40%, with 20 tonnes of waste being diverted from landfill. Their water has reduced and biodiversity projects are in place.
On receiving the award, Heather Anderson, Director of Whitmuir Organics Ltd, said:  "We were honoured just to be shortlisted for a VIBES Award, as it's such a thorough process. Winning a VIBES Award in the Changing Behaviour category is wonderful recognition of the work put in over the last few years by our staff team and farm supporters, who all lead by example.  It will encourage us to keep going and do more in the years to come."
The Changing Behaviour Shortlist
Whitmuir Organics Ltd faced strong competition from the other companies shortlisted in the category including:
Dawnfresh Seafoods Ltd
Edinburgh International Conference Centre (EICC)
Film City Glasgow
Macdonald Aviemore Resort
Newsprinters
Rio Tinto Alcan
Scotrail
Soilutions Ltd
Vegware Ltd
Other finalists in the category were:
Edinburgh International Conference Centre (EICC)
The Edinburgh International Conference Centre (EICC) is an events venue with a sustainable focus. They were recognised due to their environmental actions, including: implementing a Green Team promoting and monitoring best practice for all departments; driving external behaviour change by engaging client event organisers in their 'Plan- it green' programme; complying with a sustainable procurement policy; promoting sustainable transport, recording a 5% increases in staff use of public transport, reduction in business flights, and; reducing energy consumption by 40% over a 7 year period.
Macdonald Aviemore Resort
Macdonald Aviemore Resort is a resort with hotel and lodge accommodation, conference facilities, restaurant and bars, leisure and spa activities and a shop. Over the last 18 months they have reduced energy by 16% and saved 352 tonnes of carbon by recycling discarded waste. They are implementing the Room 15 environmental and sustainability initiative with 15 commitments to be achieved by the year 2015. There is a strong drive to promote behavioural change amongst customers by introducing incentives such as reduced price train tickets and the provision of an electric car recharging point.
All of the VIBES Judges would like to stress how well the shortlisted businesses have done in this year's Awards and how difficult it was to choose between them. We would like to congratulate all of the shortlisted companies on their achievements and hope that you will apply for VIBES in 2014.
Share this
Media Enquiries
For all press & media enquiries, please contact:
The BIG Partnership
3rd Floor
Fountain House
1-3 Woodside Crescent
G3 7UL
0141 333 9585
vibes at bigpartnership.co.uk