10 December 2013
---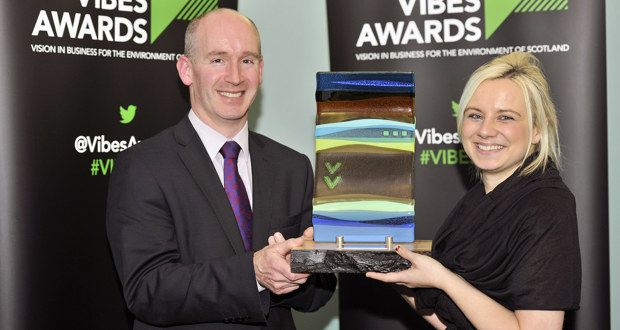 (From l to r) Gordon McGregor, Environmental and Innovation Director at ScottishPower and Sarah Davenport, Head of Marketing at Dry Lube with the VIBES Environmental and Clean Technologies Award
This year's VIBES Awards saw a record number of applicants apply across all categories including Management, Changing Behaviour, Energy, Transport, Waste and Resources, Environmental and Clean Technology, Hydro Nation, Circular Economy and Micro Business. An impressive 35 companies went on to be shortlisted and received site visits from the VIBES Judges.
The Environmental and Clean Technology Award reflects how new technologies can promote sustainable consumption, reduce environmental impacts and create new business opportunities. This category is aimed at businesses that are developing or have developed a new technology that brings clear environmental improvements and business opportunities.
Sponsored by ScottishPower
ScottishPower has returned for a second time to support the VIBES Environmental and Clean Technologies Award. Part of the leading international energy group IBERDROLA, they are committed to the development of clean and green electricity generation as well as the development of a modernised grid infrastructure.
Gordon McGregor, Energy and Environment Director at ScottishPower, presented the award and said: "We were delighted to sponsor the VIBES Environment and Clean Technology Award.  The award is a showcase for the best technology developments coming from Scottish companies that are designed to make our society more sustainable. The shortlist of companies involved in the VIBES Awards demonstrates an outstanding approach to improving the environment and the move towards a lower carbon future."
Winner of the Environmental and Clean Technology Award
The winner of the Environmental and Clean Technology award was Dry Lube Ltd.
Dry Lube Ltd is a specialised supplier of customized Dry Conveyor Lubrication Technology & Services to leading brands in the food and beverage industry such as Coca Cola, Nestle Waters and MillerCoors. The company were recognised as they have achieved a cumulative saving of 700 million litres of water globally from the use of their product. The chemical treatment of bio-film produced by wet lubrication is reduced or eradicated and the lubricant reduces friction with the reduction in energy consumption of 10%.
On receiving the award Sarah Davenport, Head of Marketing at Dry Lube, said: "We are delighted to win the Environmental and Clean Technology Award at this year's VIBES Awards and to have been a named finalist in the Hydro Nation Award and the Circular Economy Award. It's a huge achievement for our small company which has grown and expanded in the past few years as a result of the environmental rewards our customers receive from our innovative technology."
The Environmental and Clean Technology Award Shortlist
Dry Lube Ltd was up against some tough competition from the other shortlisted companies in the category, including:
A-Plant
CodBod Technologies
Diageo Scotland Limited – supported by Clearfleau Limited
Ecofitter
Wastewater Wizard Ltd
The other finalist in this category was:
Diageo Scotland Limited – supported by Clearfleau Limited
Diageo Scotland Limited – supported by Clearfleau Limited have a bio-energy Plant at Dailuaine Distillery, Aberlour. Their innovative bio-energy technology offers a better return on investment than treatment processes. At Dailuaine, energy based revenue is available from receipt of FIT payments for renewable electricity. Energy cost savings are being generated by replacing 40% of purchased electricity and reducing natural gas use. They currently have plans to replicate this on other distillery sites
The VIBES Judges would like to stress how well all of the shortlisted businesses have done in this year's Awards and how difficult it was to choose between them. We would like to congratulate all of the shortlisted companies on their achievements and hope that you will apply for VIBES in 2014.
Share this
Media Enquiries
For all press & media enquiries, please contact:
The BIG Partnership
3rd Floor
Fountain House
1-3 Woodside Crescent
G3 7UL
0141 333 9585
vibes at bigpartnership.co.uk