10 December 2013
---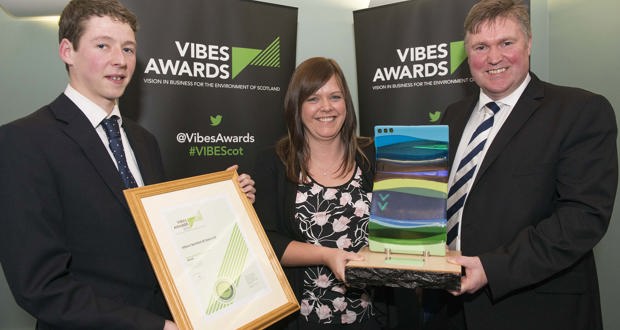 (From l to r) Lewis Campbell, Graduate (Environmental Systems), Jackie McClory, QHSE Manager, and Colin Campbell, Operations Director, from Albert Bartlett with their VIBES Management (Large) Award
This year's VIBES Awards saw a record number of applicants apply across all categories including Management, Changing Behaviour, Energy, Transport, Waste and Resources, Environmental and Clean Technology, Hydro Nation, Circular Economy and Micro Business. An impressive 35 companies went on to be shortlisted and received site visits from the VIBES Judges.
The Management Award recognises businesses whose management systems deliver continuous improvement in environmental performance. This category is aimed at businesses that are taking a holistic approach to environmental improvement and can demonstrate the associated economic and social benefits that have been achieved. The Management Award is split into two sections – Large (over 250 employees) and Small to Medium Sized Enterprises -SMEs (less than 250 employees).
Sponsored By Mainetti UK
Mainetti UK Ltd supplies high street retailers with more than 300 million clothes hangers per year through environmentally-friendly manufacturing and recycling processes. The company scooped the VIBES Management (Large) Award and returned to sponsor the same category this year.
John Bathgate, QHSE Manager at Mainetti, who presented the award said: "Mainetti is proud to sponsor the Management Award this year. For Mainetti the VIBES Awards are our baseline for sustainable improvement, we aim to enter every three or four years. In this way we are testing ourselves against the strict criteria and Scotland's best environmentally minded companies. Winning last year has given all of our staff recognition for their efforts."
Winner of the Management Award – Large Category
The winner of this year's Management (Large) Award was Albert Bartlett & Sons Limited.
Albert Bartlett & Sons Ltd is the largest potato packing house in the UK. The company have been recognised for their on-site water treatment plant that saved more than £100,000. 98% of the water they use comes from their roof collection and they have created £51,000 worth of annual savings from other environmental initiatives. The company also has zero product waste.
On winning the award, Russell White, Head of Engineering & Sustainability at Albert Bartlett, said: "Albert Bartlett is delighted to have won this prestigious award which re-affirms our total commitment to preserving the environment.  It's fantastic to receive recognition for the efforts of our team, and we will continue to do all we can to promote responsible food production while protecting the environment for future generations."
The Management Award – Large Shortlist
Albert Bartlett & Sons were up against some tough competition, with the following companies all being shortlisted in the category:
BAE Systems Maritime – Naval Ships
Dawnfresh Seafoods Ltd
Newsprinters
Noble Foods
Rio Tinto Alcan
 The additional finalists were eventually narrowed down to:
Newsprinters
Newsprinters use the world's largest newspaper printing press to produce all of the Scottish editions of the News International titles. The installation of a closed loop conductivity control system reduced water consumption and saved them £16,000. The installation of LED lighting has resulted in projected lifetime savings of £237,016.80. The effective training of staff resulted in an employee identifying a waste opportunity that saved £50,000.
Rio Tinto Alcan
Rio Tinto Alcan operates a primary aluminium smelter with the capacity to produce approximately 48,000 tonnes of cast aluminium per year. The company has a Lean Management System, which includes excellent monitoring and performance analysis. They have challenging targets set for reduction of resource use and waste production, with all employees being involved in daily reviews of KPIs. The company's initiatives include butt reduction, through engineering modifications, which generates good savings in electricity and kerosene.
The VIBES Judges would like to stress how well all of the shortlisted businesses did in this year's Awards and how difficult it was to choose between them. We would like to congratulate all of the shortlisted companies on their achievements and hope that you will apply for VIBES in 2014.
Share this
Media Enquiries
For all press & media enquiries, please contact:
The BIG Partnership
3rd Floor
Fountain House
1-3 Woodside Crescent
G3 7UL
0141 333 9585
vibes at bigpartnership.co.uk