05 February 2015
---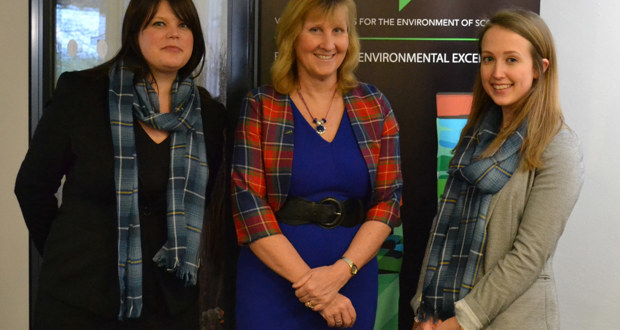 Plans for this year's VIBES Awards are well underway, but we couldn't say goodbye to our 15th annual awards without a final celebration for all those who helped make them such a success.
This week saw our sustainable champions, hard-working partners, supportive sponsors and guests, gather together to enjoy a dram or two at a belated burns night held at The University of Stirling Management School.
16 years on, the VIBES Awards would not be where they are today without the hard working organisations that continue to put sustainability at the heart of their business operations.
Last year's winners really illustrated this, from finding creative ways to streamline operations and implement energy saving practices, to developing clever soil remediation systems which have already diverted over 10,000 tons of waste from landfills.
To help showcase the breadth of Scotland's businesses that are taking steps to reduce their impact on the environment, the guests heard from our 2014 inspirational winners, before participating in a live Q&A with them.
The subject matter was all about how the smallest of changes can result in more efficient use of resources and strengthen operations, but the toast of the evening remained a wholly traditional one – to the haggis!
With the toasting done we are already thinking ahead to the 2015 VIBES Awards. We're looking forward to working closely with our 2014 winners and partners and would like to invite any business interested in hearing more to get in touch.
Don't worry, we don't require you to be able to recite every verse of Tam O'Shanter (though it's always a bonus), just a passion for sustainability!
Gillian Bruce, VIBES Chair, SEPA
Share this
Media Enquiries
For all press & media enquiries, please contact:
The BIG Partnership
3rd Floor
Fountain House
1-3 Woodside Crescent
G3 7UL
0141 333 9585
vibes at bigpartnership.co.uk