25 March 2015
---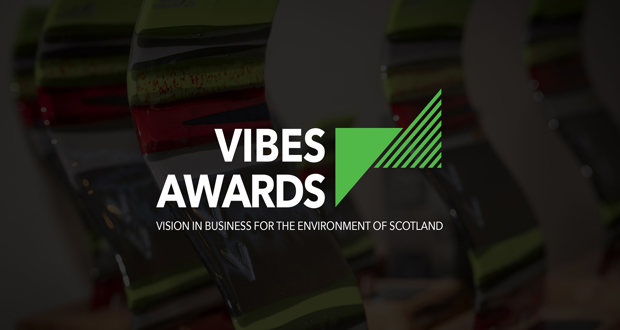 It's that time of the year again when we are encouraging Scotland's businesses to show real vision in business by getting behind this year's Vision in Business for the Environment of Scotland (VIBES) Awards.
The VIBES awards aim to encourage efficient use of resources, improvement of environmental performance, enhancement of business competitiveness and support for wider sustainable development.
With activity already underway for the 16th annual awards, VIBES is inviting Scotland's businesses to show their support for the environmental awards scheme. The VIBES Awards offer sponsors access to network with some of the biggest names in Scottish industry, politics and media as well as showcasing that they are an organisation committed to tackling climate change.
The Scottish Government, Zero Waste Scotland and Scottish Power, sponsors of last year's awards, have already pledged their continued support for another year, while The University of Stirling Management School has committed their continued support as venue sponsor. We are pleased to announce that BrandRex are a new sponsor for 2015. Opportunities to sponsor award categories are still available but we would encourage businesses interested to get in touch quickly.
Over the years VIBES has attracted interest from a host of well-known names including Chivas Regal, Rolls Royce, Albert Bartlett, Lothian Buses and William Tracey and we are looking forward to welcoming more businesses to join Scotland's leading environmental scheme.
For more information on the sponsorship opportunities available, please contact Gillian Bruce on 01896 754797 or gillian.bruce@sepa.org.uk
Share this
Media Enquiries
For all press & media enquiries, please contact:
The BIG Partnership
3rd Floor
Fountain House
1-3 Woodside Crescent
G3 7UL
0141 333 9585
vibes at bigpartnership.co.uk