08 April 2015
---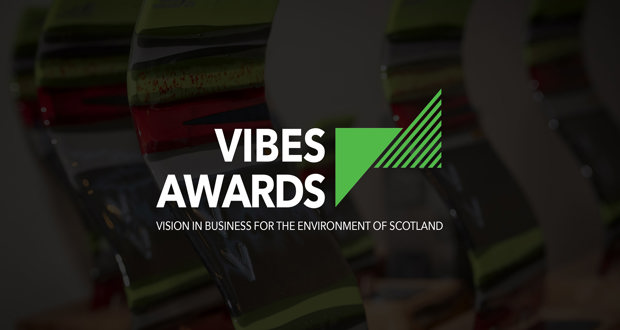 Businesses throughout Scotland are invited to learn from environmental experts at a series of free events to launch this year's Vision in Business for the Environment of Scotland (VIBES) Awards.
VIBES is Scotland's leading environmental awards scheme and aims to encourage efficient use of resources, improvement of environmental performance, enhancement of business competitiveness and support for wider sustainable development. Open to businesses of all sizes and sectors, VIBES recognises and rewards organisations employing environmental best practice in their day-to-day activity.
Now in its 16th year, VIBES is offering Scotland's businesses the opportunity to gain insight and experience from its 2014 award winners at a series of free events across Scotland. Previous winners include; BAE Systems Naval Ships, Jessie Mac's B&B, Fife HARCA Ltd., IRT Surveys Ltd., Keenan Recycling Ltd., Peel Tech Ltd., Soilutions Ltd., Wind & Cloud Travel Ltd., GRAHAM Construction and Celtic Renewables Ltd.
The first of these events will be held in Glasgow on Thursday 7th of May 2015 and will celebrate the official launch of the 2015 VIBES Awards. Held at The Lighthouse, guests will have the opportunity to hear from BAE Systems, winners of the 2014 management (large) category, Glasgow's Green Year 2015, The Lighthouse and from the team at VIBES before embarking on a tour of the venue.
Other events to follow include:
Fife event, Thursday 14th May
Edinburgh event, Tuesday 19th May
Dumfries & Galloway event, Wednesday 20th May
Inverness event, Wednesday 27th May
Aberdeen event, Thursday 28th May
Scottish Borders event, Thursday 28th May
Fife event, Wednesday 24th June
Perth event, TBC
Gillian Bruce, chair of VIBES Awards, said: "Each year we receive interest from businesses throughout Scotland, so it is great to be able to host free events regionally where local organisations can hear directly from previous local winners and businesses. The events will be a great way for businesses to find out more information on the awards and the opportunities they present without feeing obliged to commit to anything.
"As well as hearing from a number of previous winners, each event also provides great networking opportunities for like-minded businesses. In addition to these events, we will also be hosting a number of sessions designed to help businesses complete their application forms."
VIBES is a strategic partnership between Scottish Environment Protection Agency, Scottish Government, Scottish Water, Scottish Enterprise, Highland and Islands Enterprise, Zero Waste Scotland, Energy Saving Trust and the 20:20 Climate Group. The Awards are further supported by CBI Scotland, the Institute of Directors, the Federation of Small Businesses and Bright Green Business.
Applications for this year's awards will open from Thursday 7th May 2015 and will close at 5pm on Monday 13th July.
To request your attendance at one of the events, please register through Eventbrite www.vibesawards.eventbrite.co.uk or email: vibes@sepa.org.uk
Full details of each event can be found below:
Glasgow – Thursday 7th May at The Lighthouse – 11 Mitchell Lane, Glasgow G1 3NU. Speakers: BAE Systems – winners of the 2014 VIBES Management (large) Award, Glasgow's Green Year 2015, The Lighthouse and VIBES. Event from 4-6pm.
Fife – Thursday 14th May at Peel Tech – Fresh Produce Unit, Eastfield Navity, Ballingry, Fife, KY5 7LR. Speakers: Peel Tech – winners of the 2014 VIBES Hydro Nation Award, Ivan Wood and VIBES. Event from 4-6pm.
Edinburgh – Tuesday 19th May at Edinburgh Zoo – 134 Corstorphine Road, Edinburgh EH12 6TS. Speakers: Edinburgh Zoo, Soilutions – winners of the 2014 VIBES Circular Economy Award and VIBES. Event from 4-6pm.
Dumfries & Galloway - Wednesday 20th May at Cairndale Hotel – English Street, Dumfries, DG1 2DF. Speakers: Resource Efficient Scotland (RES), Home Energy Scotland, Scottish Enterprise and VIBES. Event from 5.30-8pm.
Inverness – Wednesday 27th May at Highland and Islands Enterprise – Fraser House, Friar's Lane, Inverness, IV1 1BA. Speakers: HIE and VIBES. Event from 4-6pm.
Aberdeen – Thursday 28th May at Robert Gordon University Business School- Garthdee House, Garthdee Road, Aberdeen, AB10 7QB. Speakers: Robert Gordon University, Enviroco and VIBES. Event from 5-8pm.
Scottish Borders – Thursday 28th May at The Waterwheel, Philiphaugh, Selkirk.  Speakers TBC, will include a tour of the hydroelectric station.  Event from 4.30-6.30pm
Perth – TBC
Fife – Wednesday 24th June at Fife Renewables Innovation Centre, Ajax Way, Leven KY8 3RS. Workshop event for businesses to support completion of application form. Speakers: Fife HARCA – winners of the 2014 VIBES Co-operation Award and VIBES. Event from 8-10am.
Share this
Media Enquiries
For all press & media enquiries, please contact:
The BIG Partnership
3rd Floor
Fountain House
1-3 Woodside Crescent
G3 7UL
0141 333 9585
vibes at bigpartnership.co.uk