25 November 2016
---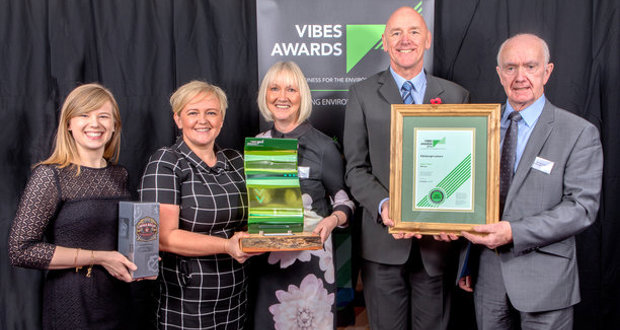 This year, 32 Scottish businesses were shortlisted from a record number of entries.  Each of the finalists underwent a rigorous judging process, including a programme of site visits, to assess their environmental practices.
The Green Team Award rewards teams that have recognised the importance of working as a team to deliver environmental improvements. Green teams are cross‐functional groups of employees who come together to educate, inspire and empower employees around sustainability. They identify and implement specific solutions to help their organisation operate in a more environmentally sustainable fashion.
Sponsored by Anglian Water Business
Anglian Water Business is a leading national water retailer, supplying over 130,000 businesses and public sector organisations across the UK.
Their mission is to understand how each organisation uses water and find ways to help every customer reduce their consumption and save money – quickly and sustainably. They have been helping Scottish businesses to save since the market opened in 2008.
Tony March, Business Development Manager at Anglian Water Business: "At Anglian Water Business, we are committed to sustainability and helping our customers use less water and reduce their impact on the environment. That is why we are committed to supporting initiatives that recognise those organisations that step up to the challenge and develop sustainable future for themselves, their local communities and future generations."
Winner of the Green Team Award: Edinburgh Leisure
The winner of this year's Green Team Award went to Edinburgh Leisure.
Edinburgh Leisure was created in 1998 to manage and develop sport and leisure services on behalf of the City of Edinburgh Council. The organisation is now a leading leisure trust with a turnover of almost £30 million, over 800 employees and 4.8 million customer visits a year. They are inspiring Edinburgh to be a more active and healthy city. Edinburgh leisure has a corporate green plan which identifies the targets and then the green team at each venue identifies how it can set about meeting these. A competition element is introduced between the venues to provide incentives to achieve the targets. Strong community engagement is in place to promote sustainable initiatives.
Fiona Douglas, Energy and Sustainability Officer, Edinburgh Leisure: "Edinburgh Leisure is delighted to have won the first ever Green Team Vibes Award! This award is a reflection of all the hard work put in by the whole team at Craiglockhart Leisure and Tennis Centre. The aim of our team was to reduce our impact on the environment but we did not foresee that there would be so many additional benefits. Our hope is to inspire more organisations to create a Green Team and start making a difference."
The VIBES Green Team Award - Special Commendation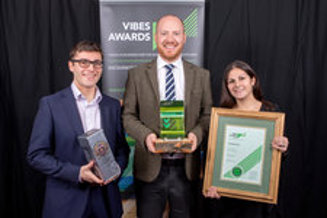 A special commendation this year was awarded to Changeworks
Changeworks is one of Scotland's largest environmental charities – a thriving social enterprise with over 25 years' experience in sustainability. They work with organisations, communities and individuals to deliver practical solutions that reduce carbon emissions, fuel poverty and waste. Changeworks has a strong, motivated green team which has engaged in a wide range of initiatives to minimise the carbon footprint of the business. The team comprises members throughout the company and has strong senior management support.
The Green Team Shortlist
The other shortlisted companies in this category included:
Edinburgh International Conference Centre
Scarf Ltd
St Andrews Links Trust
Share this
Media Enquiries
For all press & media enquiries, please contact:
The BIG Partnership
3rd Floor
Fountain House
1-3 Woodside Crescent
G3 7UL
0141 333 9585
vibes at bigpartnership.co.uk