17 November 2017
---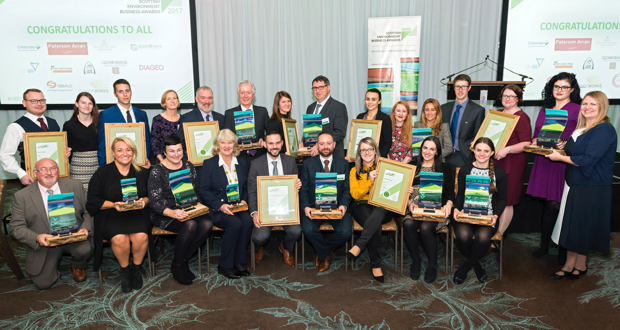 Nine Scottish companies have been declared champions of sustainability at the VIBES – Scottish Environment Business Awards.
Changeworks, CircoSense Ltd, EC-OG, Glaze & Save Ltd, Greenvale AP, John Lawrie (Aberdeen) Limited, Paterson Arran Ltd, Sibbald Limited and The Glenmorangie Company Ltd each picked up a coveted green award in front of an audience of more than 350 business figures at the ceremony held in Edinburgh's Grand Sheraton Hotel and Spa on Wednesday 15 November.
A further three businesses Diageo (Leven), Jaw Brew and The Scottish Cafe & Restaurant each received commendations for their environmental efforts which included everything from packaging redesign to reduce waste, production of beer from unsold morning rolls to use of slam shut valves to contain spillages.
The announcement follows a rigorous judging process, where each of the 37 finalists were visited by a team of judges to assess their environmental processes.
Now in its 18th year, the VIBES - Scottish Environment Business Awards is dedicated to recognising and rewarding businesses that are contributing to Scotland's sustainable environment and unlike many other green awards, they are open to businesses of all sizes across all sectors.
Research has shown that sound environmental practice is also good for business, and the awards aim to encourage efficient use of resources, enhance business competitiveness, improve environmental performance and support wider sustainable development goals by showcasing examples of some of the small steps businesses are taking that can have a big difference to their bottom line as well as the environment.
Gillian Bruce, Chair of the VIBES – Scottish Environment Business Awards, commented: "Sustainable practice is important for our environment but it can also make a big difference to a business's operations as seen by this year's finalists.
"The standard of entries has once again been high and it is encouraging to see the different ways and processes businesses are coming up with, both small and large, to reduce their environmental impact.
"The VIBES – Scottish Environment Business Awards are not just about giving recognition to these companies but also to help showcase the steps they are taking to reduce their impact in the hope that many more companies will be inspired to follow in their footsteps and to reap the rewards."
Each of the 2017 VIBES winners is now eligible to enter the 2018 European Business Awards for the Environment (EBAE) which is open to winners and runners up of RSA Accredited award schemes. VIBES is the only Scottish based RSA Accredited award scheme.
Sponsoring the awards this year are; Anglian Water Business, Centre for Sustainable Practice and Living, Climate-KIC through Edinburgh Centre for Carbon Innovation (ECCI), Edinburgh Trams, Farne Salmon and Trout, NetRegs, Scottish Government, SEPA, ScottishPower and University of Stirling Management School.
The Awards are accredited by the RSA Environment Awards Accreditation Scheme (www.rsaaccreditation.org).
Share this
Media Enquiries
For all press & media enquiries, please contact:
The BIG Partnership
3rd Floor
Fountain House
1-3 Woodside Crescent
G3 7UL
0141 333 9585
vibes at bigpartnership.co.uk