03 February 2017
---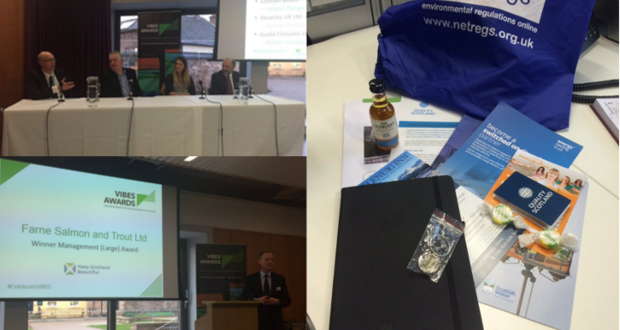 A big part of the VIBES Awards is about sharing best practice and inspiring others and last night's Celebration Event highlighted this perfectly.
Guests, partners and sponsors were treated to a number of thought provoking talks from 2016's sustainable champions who shared their inspirational stories. Each presentation highlighted their commitment to putting sustainability at the heart of their business operations.
The evening, held and sponsored by Edinburgh Centre for Carbon Innovation, served as a fantastic reminder of how businesses of any size can make small changes that can have a big difference not only to the wider environment but to their internal operations.
Last year's winners really illustrated this, from running a small hospitality business on 100% renewable energy to developing waste management systems that reduced one winner's landfill from 60% to just 3%.
It also highlighted the diversity of Scottish businesses demonstrating this, from transport providers and leisure organisations such as Lothian Buses, Edinburgh Leisure and Glenuig Inn Ltd to those representing Scotland's food and drink industry including Guala Closures UK and Farne Salmon and Trout Ltd.
A big thank you to all guests who joined us last night and to event sponsors ECCI and NERC for their support and hospitality.
As the 2016 Awards draw to a close we're very much looking forward to seeing what this year brings and working closely with our previous winners and partners as well as meeting new businesses who support VIBES' values.
2017 also marks our 18th award ceremony - some might say this requires an even bigger celebration event, after all, you only turn 18 once!
Gillian Bruce, VIBES Chair, SEPA
Share this
Media Enquiries
For all press & media enquiries, please contact:
The BIG Partnership
3rd Floor
Fountain House
1-3 Woodside Crescent
G3 7UL
0141 333 9585
vibes at bigpartnership.co.uk