13 December 2017
---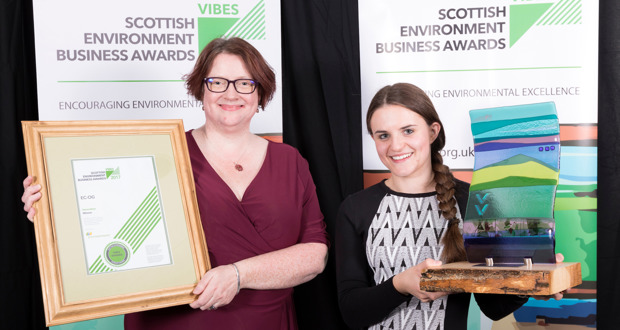 This year, 37 Scottish businesses were shortlisted from a record number of entries. Each of the finalists underwent a rigorous judging process, including a programme of site visits, to assess their environmental practices.
The Innovation Award recognises businesses, partnerships, collaborations or individuals within a business that have developed, innovative technologies, products, practices or services that bring environmental and business benefits. This category highlights the ability of businesses to promote sustainable consumption, reduce environmental impacts and create new business opportunities
Sponsored by ScottishPower
ScottishPower is one of the largest UK energy companies, responsible for the supply of gas and electricity in the UK to over 5 million customers
ScottishPower are part of the Iberdrola Group, a world leader in wind energy and one of the largest energy companies in the world. They are at the forefront of building a sustainable energy future for everyone, through innovation and investment in renewable energy.
Linda White, Sustainability & Quality Manager at ScottishPower said: "ScottishPower would like to congratulate all of the projects and organisations involved in the 2017 VIBES awards. Across our business we focus on key values that drive us – two of those values are 'Innovation' and 'Respect for the Environment'. Therefore special congratulations to the very worthy winners of the Innovation Category: EC-OG. Their exciting work reflects our shared values in innovative ventures in order to fight climate change."
Winner of the Innovation Award: EC-OG
The winner of this year's Innovation Award went to EC-OG.
EC-OG are a technology provider in the energy industry based in Aberdeen. The company have developed and patented an ocean energy conversion system – the Subsea Power Hub. The self-contained regenerative energy source harnesses the energy within ocean currents to convert, store and deliver autonomous electrical power.
Richard Knox, Managing Director at EC-OG, said: "We are delighted to have won the Innovation Award at this year's VIBES – Scottish Environment Business Awards. This is a real honour for the EC-OG team who have worked hard to quickly advance the Subsea Power Hub's development. We are proud that we are bringing to the market, a device which reduces the environmental impact of producing electrical power. The VIBES – Scottish Environment Business awards sets a precedent for making Scotland a more environmentally sustainable place to do business, I would strongly encourage other companies to get involved."
The Innovation Finalists:
3f bio Ltd
Industrial Nature Ltd
Kranôg Ltd
FairSquaredUK
Share this
Media Enquiries
For all press & media enquiries, please contact:
The BIG Partnership
3rd Floor
Fountain House
1-3 Woodside Crescent
G3 7UL
0141 333 9585
vibes at bigpartnership.co.uk