05 December 2018
---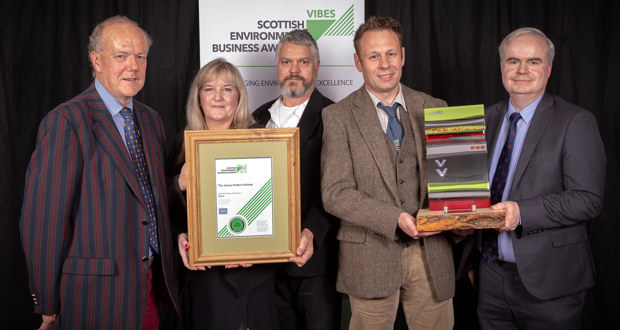 Businesses in Scotland are continuing to step up to increasing environmental challenges: 12 Scottish companies were rewarded for their commitment to sustainability at the VIBES – Scottish Environment Business Awards. In a series of blogs over the next few weeks, we are exploring who are VIBES 2018 Winners and Commended. Today – the Climate Change Adaptation category.
The Climate Change Adaptation Award recognises businesses and partnerships that are taking a proactive approach to managing climate risks and/ or developing products and services that are enabling society to adapt.
Sponsored by Adaptation Scotland
Adaptation Scotland provides advice and support to enable organisations, businesses and communities to adapt to the impacts of climate change.
Challenges such as increased flood risk, new pests and diseases affecting forestry and agriculture and increased damage and disruption to infrastructure and buildings are just some of the challenges that we face in Scotland as a result of the unavoidable impacts of climate change.
Adaptation Scotland provides practical advice on how to manage these challenges and increase business resilience in the process.
Adaptation Scotland is a programme funded by the Scottish Government and delivered by sustainability charity Sniffer
Anna Beswick, Adaptation Scotland Programme Manager said: "Adaptation Scotland is delighted to be part of the Vibes Awards for the first time this year.
We want to see organisations, businesses and communities benefiting from action to adapt to climate change. The two adaptation category award winners clearly showed how this can be achieved in practice.
Award winners the James Hutton Institute demonstrated how simple alterations to land management practices can make farm land more resilient to climate change impacts. They also showed that collaboration among researchers, growers producers and processors can stimulate innovation and help develop solutions to climate challenges.
A series of excellent projects developed by Aberdeen City Council Ranger Service, were recognised through their commendation award. The projects are improving the natural environment and access to high quality greenspace for people whilst at the same time reducing climate impacts such as waterlogging and flood risk.
We hope that the award winners will inspire other businesses and organisations to develop innovative solutions to adaptation challenges and contribute towards a climate ready Scotland."
Winner of the Climate Change Adaptation Award: The James Hutton Institute
The winner of this year's Climate Change Adaptation Award went to The James Hutton Institute.
The James Hutton Institute is a world leading scientific organisation that undertakes research for customers including Scottish and UK Governments, the EU, Industry and other organisations worldwide. They combine strengths in crops, soils and land use and environmental research, and make major contributions to the understanding of key global issues.
Professor Colin Campbell, CEO of The James Hutton Institute, said: "We are proud to have been recognised at this year's VIBES – Scottish Environment Business Awards in the adaptation to climate change category. Receiving a VIBES Award is a real testament to the hard work and commitment from everyone at the Institute with our partners doing whatever we can to reduce our impact on the environment and deliver a sustainable future. The Awards provide a great spotlight on good practice that improves operations as well as benefitting the environment and we hope others are inspired to make their own positive changes."
The VIBES Climate Change Adaptation Award – Special Commendation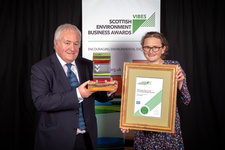 A special commendation was awarded this year to Aberdeen City Council Countryside Ranger Service.
The Countryside Ranger Service manages 28 countryside sites within Aberdeen to promote nature conservation, recreation and education for all. As part of this the team delivers outdoor learning and environmental education activities for all ages to highlight the natural environment and responsible citizenship.
The Climate Change Adaptation Finalists:
Share this
Media Enquiries
For all press & media enquiries, please contact:
The BIG Partnership
3rd Floor
Fountain House
1-3 Woodside Crescent
G3 7UL
0141 333 9585
vibes at bigpartnership.co.uk