22 November 2019
---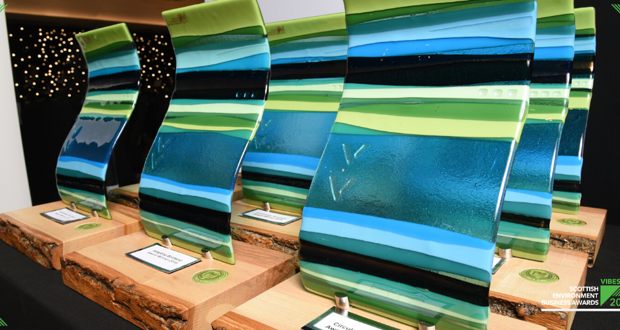 Here is some information on our signature awards and their creator, Scott Irvine.
For the past 13 years, the VIBES team have worked with Scott from Harmonies in Wood to produce the VIBES awards.
Having trained as a carpenter, Scott is self-taught in woodturning and carving. Working with his wife, Mandy, he set up his business 'Harmonies in Wood' in 1998 to produce sculptures and awards.
The design of the VIBES awards is based on a natural landscape theme. Rich in colour and unspoiled: to promote the vision of the future in response to the efforts applied to the environment today. The fused glass has been shaped to represent movement into the future. The Ash base has a natural edge exposed to give an organic feel and, being a native timber, this keeps the Scottish connection.
The process to create each VIBES award starts in the glass studio. Scott cuts all the different colours of glass to size and layers them on top of a clear base glass the size of the award. The glass component is then placed into the kiln and fused together. The fused glass is then placed on top of a ceramic mould to bend it into the shape of the mould. Scott then engraves the VIBES logo on the glass element by making a stencil which is then sandblasted. The next stage is to move to the wood workshop to make the wooden element of the award. Scott uses slabs of kiln dried Scottish Ash that has come from wind fallen trees to make the wooden base of the awards. Each base is cut to size then hand carved detail is added. The Ash bases are fished with a blend of natural oils to seal and protect the wood.
The VIBES team works alongside Scott to choose the colours – creating unique awards for each award ceremony.
Green vibe:
Scott uses the heat created by the kiln to heat up his workshop and dry his wood. He also uses Ecobags to transport the awards.
To find out more about Scott and his work, visit his website: https://harmoniesinwood.co.uk
Share this
Media Enquiries
For all press & media enquiries, please contact:
The BIG Partnership
3rd Floor
Fountain House
1-3 Woodside Crescent
G3 7UL
0141 333 9585
vibes at bigpartnership.co.uk