05 February 2019
---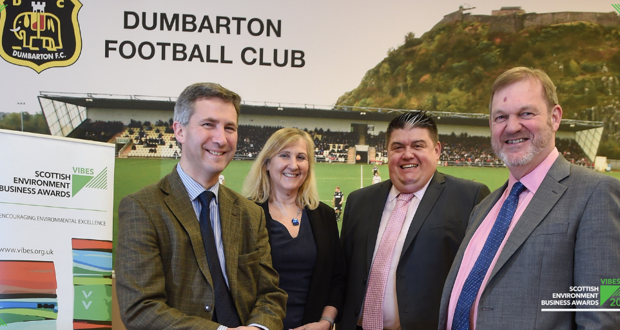 On 29January 2019, VIBES – Scottish Environment Business Awards - was proud to host a breakfast meeting in partnership with Chivas Brothers – Pernod Ricard around the principle of circular economy in the whisky sector supply chain.
Speakers included Chivas Brothers, Scottish Environment Protection Agency, Scotch Whisky Association, BIFFA, WN Lindsay and Owen Illinois. The event attracted a number of distillers as well of some key players including Scottish Water, Scottish Manufacturing Advisory Service, Mc Pherson Ltd, Ian Macleod, Glengoyne Distillery, William Grant & Sons Distillers Ltd and Inver House Distillers.
What came through all speakers' presentations is that the whisky sector has shifted from a vision of "what is the point" to "where are the benefits" of sustainability for the industry. The whisky sector is a pro-active industry in terms of sustainability, where the environment is seen as non-competitive and they highly encourage exchanges of good practices between businesses.
From the regulator to all the supply chain, all identified some new challenges / opportunities for the industry:
Adapt to the new policy developments
Adaptation to climate change
Meeting consumers' expectations – especially around packaging
Meeting the UN Sustainable goals
Future of investments
All agreed that facing those challenges will be done through partnership working, innovation and long-time planning.
Ronald Daalmans, Environmental Sustainability Manager from Chivas Brothers – Pernod Ricard, headline sponsor of VIBES, said: "As an early winner, the continued improvements in environmental performance over the last 16 years have highlighted the importance of partnership working to achieve our goals. This approach will be even more important for the significant challenges that remain."
Commenting, Terry A'Hearn, chief executive of SEPA, said: "The scale of environmental challenges facing humanity is enormous, with a real urgency to act. Only businesses that embrace the economic opportunity of sustainable solutions to environmental challenges will thrive.
"We want the best environmental performers to be the most successful businesses and SEPA is committed to helping Scottish businesses recognise the benefits of good environmental performance within environmental rules and regulations. Scotch Whisky is a great example, where we have seen consistently high compliance for several years – demonstrating that high environmental performance and prosperity are mutually dependent."
This event also marked the start of VIBES 20th anniversary celebrations. Over its 20 years, the Awards have illustrated the diverse ways businesses from across a variety of sectors are responding to environmental challenges; from developing innovative products to making simple operational changes.
Best of Vibes award
As part of its anniversary VIBES is launching a special award called the "Best of VIBES" award: entry is restricted to past winners of VIBES awards in any category. They are looking for businesses that can demonstrate their continuous improvement and their contribution to Scotland's sustainable development. Previous winners can apply from February, and VIBES will select up to 10 entries to showcase throughout the celebratory year, with the public selecting the winner at the official awards ceremony later this year.
Terry A'Hearn, added: "The VIBES – Scottish Environment Business Awards celebrate business leadership in sustainable environmental investment, and are an excellent opportunity to recognise and reward companies for going beyond 'business as usual' and driving sustainable growth through innovation.
"It is very encouraging how many of Scotland's businesses have led the way and are making a difference which will not only support the environment but also protect their bottom line. This was reflected in the fact that over 90% of the UK delegation for the 2018 European Business Awards for the Environment (EBAE) were from Scotland and the SEPA backed VIBES programme. I look forward to hearing more about the 20th anniversary over the coming months."
To apply to the "Best of Vibes" competition, complete the application form and send it to vibes@sepa.org.uk before 5pm on 1st March 2019.
Share this
Media Enquiries
For all press & media enquiries, please contact:
The BIG Partnership
3rd Floor
Fountain House
1-3 Woodside Crescent
G3 7UL
0141 333 9585
vibes at bigpartnership.co.uk