25 January 2019
---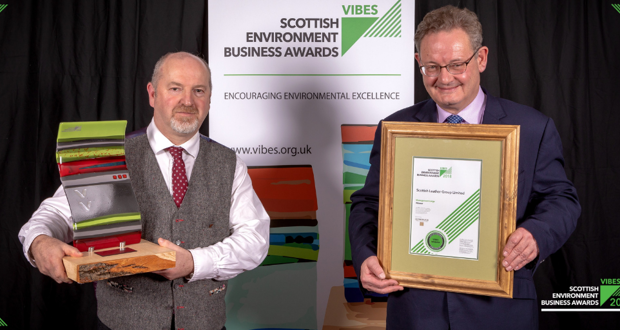 Businesses in Scotland are continuing to step up to increasing environmental challenges: 12 Scottish companies were rewarded for their commitment to sustainability at the VIBES – Scottish Environment Business Awards. In a series of blogs over the next few weeks, we will be featuring VIBES 2018 winners and commended businesses. Today it's the Management (large business) category.
The Management (Large) Award recognises businesses with over 250 employees whose management systems deliver continuous improvement in environmental performance. This category is aimed at businesses that are taking a holistic approach to environmental improvement and can demonstrate the associated economic and social benefits that have been achieved.
Sponsored by Glenmorangie
Glenmorangie is a distillery in Tain, Ross-shire, Scotland, that produces single malt Scotch whisky. Last In 2017 they won the VIBES Hydro Nation Award.
The Dornoch Environmental Enhancement Project (DEEP) is a ground-breaking initiative to restore Native European oysters to the Dornoch Firth. It has been pioneered by Glenmorangie in partnership with Heriot-Watt University and the Marine Conservation Society.
DEEP is a project that will benefit nature, business and the community.
The project's vision is to restore long-lost oyster reefs to the Firth, to enhance biodiversity and also act in tandem with Glenmorangie's new Anaerobic Digestion (AD) plant, which will purify the by-products created through the distillation process – an environmental first for a distillery.
The AD plant is purifies up to 95% of the waste water that the Distillery releases into the Firth, with the remaining 5% of the organic waste naturally cleaned by the oysters – nature's ecosystem champions.
In pursuit of its vision to enhance the marine biodiversity of the Dornoch Firth, Glenmorangie and its partners last year placed 300 oysters in its protected waters, to confirm the species could survive. For the second phase of the project which began in October 2018, a total of 20,000 oysters are to be introduced into the sea near Glenmorangie's Highland home. The long term vision is to recreate a self- sustaining native oyster reef - the first time this has been attempted in a Marine Protected Area in Europe.
Winner of the Management Large Award: Scottish Leather Group Limited
The winner of this year's Management Large Award went to Scottish Leather Group Limited.
Scottish Leather Group Limited (SLG) is the largest manufacturer of leather in the United Kingdom. Their specialist leathers are produced for a wide range of industries including automotive, aviation, bus & coach, rail, marine and contract furniture. SLG have established a 'zero waste policy' which drives the implementation of energy efficiency measures, good industrial practices, recovery of energy from waste and the creation of oil for use in heat and power generation.
Dr Warren Bowden, Group Sustainability Director at Scottish Leather Group, said: "We are proud to have been recognised at this year's VIBES – Scottish Environment Business Awards in the large management category. Collecting a VIBES Award is a real testament to the hard work and commitment from everyone at Scottish Leather Group towards reducing our impact on the environment and we are proud to take our place amongst many excellent companies working hard to deliver a sustainable future. The Awards are a fantastic way to find out about what other businesses are doing and share best practice amongst a like-minded community that too want to improve their operations while benefitting the environment and it is hoped that others are inspired to follow suit."
The VIBES Management Large Award – Special Commendation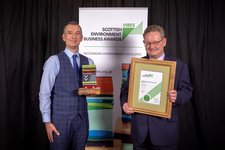 A special commendation was awarded this year to DSM Nutritional Products (UK) Limited.
DSM is a global Life Sciences and Materials Sciences company and the Vitamin production plant located at Dalry is part of DSM Nutritional Products which supplies 3 sectors - Animal Nutrition & Health, Human Nutrition & Health and Personal Care & Aroma Ingredients. Their Brighter Living Solutions program drives products and innovations that are better for people and the planet.
The Management Large Finalists:
Share this
Media Enquiries
For all press & media enquiries, please contact:
The BIG Partnership
3rd Floor
Fountain House
1-3 Woodside Crescent
G3 7UL
0141 333 9585
vibes at bigpartnership.co.uk