21 July 2023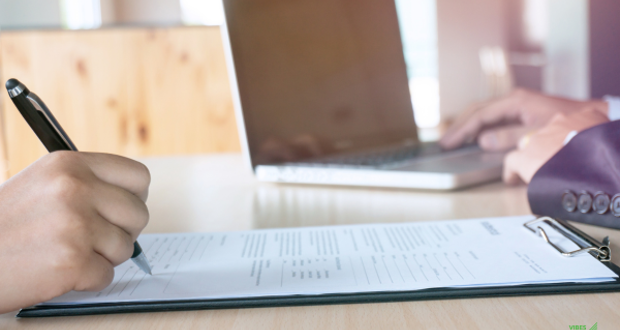 I have been co-ordinating the VIBES Awards for the last eight years and find the job as interesting now as on day one. Each year, I discover new businesses and their stories. It is very inspiring and motivating to learn about what innovations and actions businesses are taking to help achieve Scotland's net zero target and beyond.
Everything starts with the online application form: we collect key information against each of the categories' criteria. Judges are looking for the top achievements form the business, what makes them different from others in the sector, backed up with quantitative data and key facts.
All applications get reviewed by a panel of experts from our nine partner organisations. There is a significant number of applications each year, so I get to read all applications to assist the panel with questions and taking the meeting's minutes. It is very important for us to be able to have traceability in our judging process to ensure that all applicants receive the same level of scrutiny. It also helps tailor the business feedback which all applicants receive.  
Once the finalists are selected, I need to organise the site visits, matching judges to sites according to their interests and expertise and matching their availability. It is also important the judges live close to the site location to reduce our carbon footprint. I am lucky to take part in this stage as a site visit judge and I also train the other judges. All judges receive training to ensure that they are familiar with our assessment form, which drills further into the information collected at the first stage. It ensures that the information is accurate and collects additional details that will reinforce the candidate's application. We had a few businesses saying the visit feels a bit like an audit. It is very important for us to ensure that the process is rigorous and that what is in the application is what the business is doing.
Each year I am impressed with the creativity, diversity and quality of activities businesses are doing to reduce their impact on the environment and achieve business success. From finding new markets for by-products, to finding ways to influence client's travel practices, being able to take part of the process is very rewarding as it gives some insights into what businesses are actually doing and share knowledge with co-judges.
The information from the first stage and the site visit gets reported to the Head Judging Panel who meet up to select the winners. This year it will be Fran van Dijk, Deputy chair of SEPA, Robbie Kernahan, Director Green Economy at NatureScot, and Jane Morrison-Ross, CEO of South of Scotland Enterprise.
Winners get revelled at the awards ceremony which is taking place this year at the Radisson Blu in Glasgow on 8 November. Very few know who the winners are in advance, so businesses get surprised on the day.
Stay tuned to found out our 2023 Winners.