26 May 2023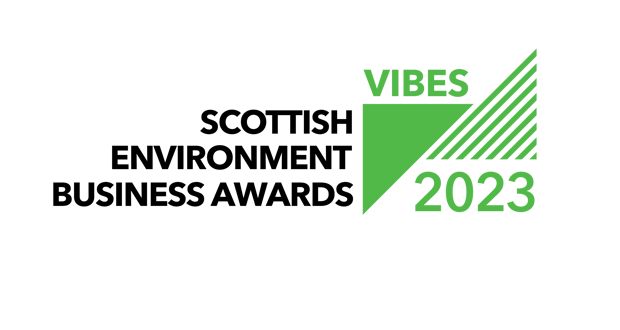 More than 40 Scottish businesses, championing the link between economic success and environmental sustainability, have been shortlisted as finalists for the 2023 VIBES Scottish Environment Business Awards.
With a significant number of entries this year, the awards celebrate the efforts of companies working to reduce pressure on the planet's resources, accelerate action towards net zero, and reinforce the symbiotic relationship between the economy and the environment.
The shortlist covers every corner of the country, from Inverness to Hawick and Lossiemouth to Newton Stewart - as well as a wide range of sectors including transport, food and drink, construction and tourism.
Nicole Paterson, Chief Executive at the Scottish Environment Protection Agency (SEPA), said:
"As the need for sustainable business practices grows across the country, so too does the economic opportunity. Now more than ever, Scottish consumers are looking to business leaders to take meaningful action, with a recent survey revealing 58% are more likely to buy from environmentally friendly companies.
"This year's VIBES shortlist goes to show that we have those in abundance in Scotland and SEPA remains firmly focused on helping many more businesses realise the financial and social benefits that come with prioritising the environment."
The VIBES Scottish Environment Business Awards is a partnership between SEPA, the Scottish Government, Energy Saving Trust, Highland & Islands Enterprise, Scottish Enterprise, South of Scotland Enterprise, Scottish Water, Zero Waste Scotland and NatureScot.
Since 1999, VIBES has recognised hundreds of Scottish businesses driving positive and radical environmental action. Last year, 12 winners were announced including Kenoteq in Edinburgh - a company making construction bricks from waste, with a 90% lower carbon footprint. Bruichladdich Distillery Co Ltd, a whisky and gin distiller based on the Isle of Islay, also scooped a prize for its commitment to the environment including switching to 100% green electricity and making additional packaging optional for customers.
ThermaFY Eco, a thermal analysis software and data company based in Kelso, won the Produce or Service Scotland award in 2023 for helping identify to identify ways to maximise energy efficiency of homes, reducing carbon emissions and excessive use of energy.
Scott Fairburn, CEO of ThermaFY Eco, said:
"Embracing sustainability is not only a responsible choice but also a smart business decision. At ThermaFY, we work with some fantastic organisations who are committed to integrating sustainable practices into their customers and employee's homes. This enables us to not only contribute to a greener future but also enhance the overall business performance of our clients through ensuring the efficiency of the UK's housing stock.
"Being recognized as a VIBES award winner validates our dedication to sustainability and motivates us to continue innovating and pushing the boundaries of energy efficiency. We are proud to be part of a growing community of businesses actively shaping a sustainable future."
STV, the official media partner for 2023, has created the Green Fund Award for this year's VIBES - the winner of which will bag a £30k campaign partnership with STV. 
Jules McKim, Head of Client Partnerships at STV, said:
"It's never been more important for businesses to champion sustainability, and as part of our media partnership with this year's VIBES Awards, we're delighted to be offering £30k worth of advertising to a standout organisation that has gone above and beyond in its mission to promote positive environmental practice.
"The STV Green Fund was set up to support Scottish businesses with strong green credentials, so partnering with VIBES on this award was a no-brainer for us. Congratulations and good luck to all this year's nominees."
The winners will be announced at a ceremony in November. 
Full list of finalists for the 2023 VIBES Scottish Environment Business Awards:
Vision in Business Scotland - Best Large Business
Albert Bartlett & Sons (Airdrie) ltd, Airdrie
Robertson Group, Stirling
Ross-Shire Engineering, Muir of Ord
Star Refrigeration Ltd, Glasgow
Tennent's Caledonian Breweries, Glasgow
Vision in Business Scotland - Best Medium Business
Edinburgh International Festival, Edinburgh
Hickory (Scotland) Limited, Edinburgh
Scotmas, Kelso
Vision in Business Scotland - Best Small Business
Dear Green Coffee Roasters, Glasgow
Grand Bequest, Glasgow
Logitech Limited, Glasgow
Threaplands Garden Centre, Moray
Windswept Brewing Company, Lossiemouth
Vision in Business Scotland - Best New Business
Art Buds Collective, Livingston
Deer Manor Gourmet Mushrooms, Newton Stewart
ReBlade Limited, Glasgow
Product Scotland
Falcon Foodservice Equipment, Stirling
Intelligent Growth Solutions, Edinburgh
Scotmas, Kelso
Sunamp LTD, Tranent
Service Scotland
Changeworks, Edinburgh
Mackenzie Construction, Glasgow
The Alba Explorers Ltd, Brechin
ULEMCo Limited, Aberdeen
Circular Scotland
Brewster Brothers, Livingston
Emtelle UK Limited, Hawick
Move On Wood Recycling, Edinburgh
The Furniture Project (Stranraer) Limited, Stranraer
Veolia, Edinburgh
Just Transition Scotland
ReBlade Limited, Glasgow
RI Cruden Limited, Inverness
Tennent's Caledonian Breweries, Glasgow
Sustainable Transport Scotland
Ember, Edinburgh
Ross-Shire Engineering, Muir of Ord
Stagecoach (Scotland), Perth
Energy Transition Scotland
ASCO, Dyce
Lochlie Constuction Group, Hillington
Ross-Shire Engineering, Muir of Ord
Tennent's Caledonian Breweries, Glasgow
Twists Studio Glass, Selkirk
Nature Rich Scotland
Flow Country Partnership, Thurso
Nairn Dunbar Golf Club, Nairn
Saltire Roofing & Building Ltd, Edinburgh